The Best Pregnancy Books for Men
Read them before the baby arrives... while there's still time.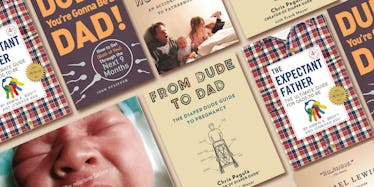 The last 15 years have seen an explosion in pregnancy books by dads, for dads. There's now published advice on everything from delivery room protocol to grappling with the male version of postpartum depression. While she reads What To Expect, you should brush up on these 5 must-read books for men. If that sounds like a lot, remember there's an infinitely growing list of parenting books you'll be told to read that you'll never have time to actually get to once the kid arrives.
New York Times What To Expect, so either way you know your wife approves of you diving into this one. It's an easy read, a solid primer on the must-knows of pregnancy, doctor visits, birthing, and more, and a great way to ween yourself off of punctuating every third sentence with, 'Dude.'" tracking="fatherly-pregnancybooks-20"]
Every product on Fatherly is independently selected by our editors, writers, and experts. If you click a link on our site and buy something, we may earn an affiliate commission.