Johnson & Johnson VP of US Federal Affairs Jane Adams on Driving Change
Embracing what you can't change helps you impact the things you can.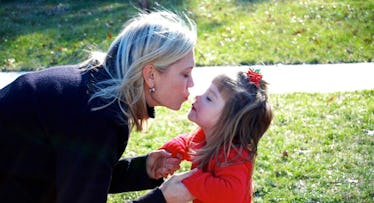 Every time you like and share this post, Johnson & Johnson will donate $1 (per social action), up to $500,000, via the Global Moms Relay to help improve the health and well-being of families worldwide in support of Shot@Life, UNFPA, Girl Up, UNICEF USA, and Nothing But Nets.
I wish for families everywhere that children and family members have a safe and protected environment and a healthy place to live. The more that our children feel safe and protected and empowered to be who they are, and care about their own health and their own well-being, then they'll be the best contributors to society. They'll help support a healthy planet, thriving society, and compassion and kindness for others.
I was diagnosed with type one diabetes when I was 12 years old and back in those days, there weren't the tools and the advanced technologies to manage the condition that we have now. Back when I was diagnosed, I was not so private about it as much as I didn't want people to think it was a big deal. I think at that age no one wants to feel different.
I grew up with type one diabetes and decided instead of being kind of private about it, I wanted to embrace the fact that I cannot only live with this condition but I'm going to thrive despite it. That directed me to a career in health policy and advocacy.
I work for Johnson and Johnson in federal government affairs in Washington, DC leading the advocacy programs in the United States. We're a global company that puts patients first and that's a big reason why — maybe the greatest reason why — I work for Johnson and Johnson. I'm a patient first before I'm anything else.
There are many patients around the world who do everything right, and even when everything is taken care of and they do everything right, really unfortunate medical situations happen. There's no logic, there's no justice in that, but we must be able to embrace the situation that we inherit and again become good stewards of what we can take care of and what we can influence and what we can change and that's ourselves, that's our family, our friends, our community and our planet.
Jane M. Adams currently serves as Vice President of U.S. Federal Affairs at Johnson & Johnson (J&J). She joined J&J's Washington, DC office in December 2003 as Senior Director of Medical Devices and Diagnostics. In her current position, Jane directs J&J's federal affairs office in Washington, DC. Jane also staffs senior management on the AdvaMed Board of Directors and other industry trade associations and advocacy organizations. Jane is a member of the Medical Devices Group Operating Committee (GOC) comprised of J&J's most senior global business leaders.
Prior to joining the Johnson & Johnson office, Jane served as Director, Government Affairs for Medtronic, Inc. managing medical technology legislative advocacy and policy issues. Jane also previously directed government affairs efforts for the Juvenile Diabetes Research Foundation (JDRF) and continues to serve in several capacities for both the local and national JDRF. Jane directed congressional affairs for the National Association for Biomedical Research and worked in media and congressional relations for the National Cattlemen's Association following an internship with the Senate Agriculture Committee.
Jane received her undergraduate degree in political science from the University of Vermont and her Masters degree in Public Policy from Georgetown University where she serves as a guest lecturer throughout the academic year. She is a member of the Washington Caucus, the Government Relations Leadership Forum, and a founding member of RightNow, a professional women's organization dedicated to electing Republican women into public office. Jane also serves on the Greater Washington Board of Directors for ChildHelp, a national organization dedicated to preventing child abuse. Jane was featured on the cover of Influence Magazine in 2004 as one of Washington's most effective corporate lobbyists. She and her husband Scott have a son Sam and a daughter Abigail and reside in Arlington, Virginia.
You share, they give: Each time you 'like' or share this post via the social media icons on this post, watch this video or comment below, Johnson & Johnson will donate $1 (per social action), up to $500,000 divided equally between Shot@Life, UNFPA, Girl Up, UNICEF USA and Nothing But Nets. The Global Moms Relay was created by the United Nations Foundation and Johnson & Johnson with support from BabyCenter, Fatherly, Global Citizen, and Charity Miles to help improve the lives of families around the globe. Share this post with the hashtags #GlobalMoms and #JNJ, and visit GlobalMomsRelay.org to learn more.
You can also use the Donate A Photo* app and Johnson & Johnson will donate $1 up to $40,000 per cause when you upload a photo for Shot@Life, UNFPA, Girl Up, UNICEF USA or Nothing But Nets, to a maximum total of $200,000. You can help make a difference in seconds with the click of your mouse or snap of your smart phone.
* via the Donate A Photo app for iOS and Android. Johnson & Johnson has curated a list of trusted causes, and you can donate a photo to one cause, once a day. Each cause will appear in the app until it reaches its goal, or the donation period ends. If the goal isn't reached, the cause will still get a minimum donation.
This article was originally published on