American Softball Legend Says Active Kids Are the Key to the Planet's Future
Olympian and groundbreaking analyst Jessica Mendoza wants everyone to get moving.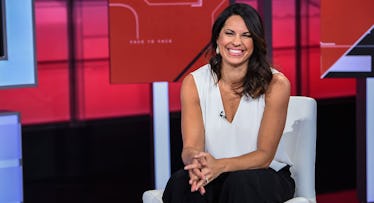 Every time you like and share this post, Johnson & Johnson will donate $1 (per social action), up to $500,000, via the Global Moms Relay to help improve the health and well-being of families worldwide in support of Shot@Life, UNFPA, Girl Up, UNICEF USA, and Nothing But Nets.
To help families be physically, mentally, and emotionally stronger, we need to encourage them to be more active. Whether it's getting up, having fun, dancing—just encouraging them to have a more active lifestyle is so important. I also think communication is important—having families talk and be honest and open and show that rawness, show the insecurities, show what we fear, and not just talking about the positive all the time.
Who has had the greatest influence on you?
The people who have influenced me the most to live a healthy lifestyle, of course, have been my parents. I mean, just how I was raised—my mom, she wouldn't even allow me to have soda when I was a kid or sugar, but she also educated me and talked about what is healthy, how to be healthy. We were just so active. We were always moving, whether it was going on walks, getting up and dancing and doing some salsa. That was a huge part of our lifestyle.
But now, my biggest influences are the people I surround myself with. I make sure that those that I'm friends with, the people I'm hanging out with, having conversations with, talk about not just the healthy food that they eat and the active lifestyle that they give, but the most important thing is how they love on themselves, how they love each other, and really just have an overall positive attitude about life and everyone around them.
What do you wish was true for every family, everywhere?
A future of a healthier planet, to me, for our children, is when we're more united. Our growth is in our knowledge. The more that we can open up our minds to more people and understand everything. It doesn't matter. I imagine that our future, to be healthier is when everybody, no matter who you are, is able to be more united and get along.
On January 13, 2016, ESPN officially named Jessica Mendoza to the Sunday Night Baseball team as an analyst. The announcement came after a historic 2015 for Mendoza, who became the first female analyst for a nationally televised Major League Baseball postseason game in an October 6, 2015 American League wild card game on ESPN. A few months prior, she became the first female ESPN MLB game analyst during the August 24, 2015 edition of Monday Night Baseball. She appeared on several Sunday Night Baseball telecasts during the stretch run of the season. Her groundbreaking 2015 also included the accolade of becoming the first female analyst for a Men's College World Series telecast.
One of the most notable softball players in the last decade, Mendoza's on-field experience has seamlessly translated to television. She joined ESPN in 2007 and, in addition to her MLB contributions, has served as an analyst and a reporter for the Men's College World Series, the NCAA Women's College World Series, and is also a sideline reporter for college football. She has also contributed content to espnW.
Prior to her work with ESPN, Mendoza was a field reporter for Yahoo! Sports at the 2010 Winter Olympic Games and the lead college softball analyst on FOX Sports. She has relationships with several brands including T-Mobile, Reebok, Under Armour, and Starwood Hotels.
Mendoza is a two-time Olympian and was a member of the U.S. Women's National team from 2001-2010. Her team took home the gold medal in Athens, Greece (2004) and the Silver Medal in Beijing, China (2008). She is both a three-time World Champion (2002, 2006, 2010) and World Cup Champion (2006, 2007, 2010) in addition to being a two-time Pan American Gold Medalist (2003, 2007). In 2006, she was named the USA Softball Athlete of the Year and was also recognized in 2008 as the Women's Sports Foundation Sportswoman of the Year.
You share, they give: Each time you 'like' or share this post via the social media icons on this post, watch this video or comment below, Johnson & Johnson will donate $1 (per social action), up to $500,000 divided equally between Shot@Life, UNFPA, Girl Up, UNICEF USA and Nothing But Nets. The Global Moms Relay was created by the United Nations Foundation and Johnson & Johnson with support from BabyCenter, Fatherly, Global Citizen, and Charity Miles to help improve the lives of families around the globe. Share this post with the hashtags #GlobalMoms and #JNJ, and visit GlobalMomsRelay.org to learn more.
You can also use the Donate A Photo* app and Johnson & Johnson will donate $1 up to $40,000 per cause when you upload a photo for Shot@Life, UNFPA, Girl Up, UNICEF USA or Nothing But Nets, to a maximum total of $200,000. You can help make a difference in seconds with the click of your mouse or snap of your smart phone.
* via the Donate A Photo app for iOS and Android. Johnson & Johnson has curated a list of trusted causes, and you can donate a photo to one cause, once a day. Each cause will appear in the app until it reaches its goal, or the donation period ends. If the goal isn't reached, the cause will still get a minimum donation.
This article was originally published on