Speed Bumps and Safe Streets: It's Time for More Family-Friendly Streets
Speed-bumps, narrower roadways, and one-way roads save kids lives. It's time to embrace safer streets.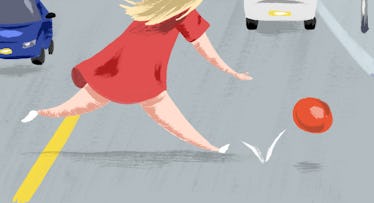 Jennifer Van Meter for Fatherly
I was raised in a suburb in Indiana. The lawns were green and manicured. The driveways were perfectly paved. The speed limit was a hard 25 MPH. I had no fear of playing with my friends in the streets. Street hockey. Soccer. Basketball. We didn't think of it much because we had a system: If a vehicle approached, we yelled "Car!" and everyone waited for a minute, sweating on the curb. The car crawled. The driver waved. It was understood, in a sense, that cars had the right of way, but just barely.
At the time, I was part of a population boom. Over the course of the 1990s, the portion of American kids growing up in the suburbs skyrocketing from just under a third to just over half. Cars braked for us because we were everywhere. We were the neighborhood.
Populations change and people move. More new parents are now raising families in cities. And children in those cities cannot feel safe even in the most family-friendly, monied areas. In March, a one-year-old and a four-year-old were fatally struck by a Volvo as they crossed a street in Park Slope, a neighborhood known for its baby yoga studios. The deaths sparked local outrage, shocking many. Flowers piled up on the sidewalk.
Experts weren't surprised.
"My kids are 12 and 14," says Kathleen Ferrier, the Policy and Communications Director of the Vision Zero Network. "I'm lucky enough to live in a neighborhood in San Diego that's relatively safe. But a lot of parents don't feel safe. There's a lot of fear, and traffic crashes are actually the number one cause of death for children in the United States. That should not be the case. It's not gunshots. It's not some flu epidemic. It's traffic crashes."
The National Highway Traffic Safety Administration data indicates that 20 percent of the children who die annually in traffic accidents, an astonishing 200 or so, are pedestrians. Compare this to the 31 child pedestrians killed in France in 2012, of the 115 total killed in all road accidents.
Some progress has been made. In 1999, 499 children were killed in pedestrian or bicycle accidents. That number has improved to 245 in 2016. But there is a long way to go.
For years, urban design was dominated by an ethos of "cars over people," a mindset often associated with Robert Moses, the legendary New York City "Master Builder" who spent the 1950s bisecting neighborhoods with freeways and evicting, in the end, around 500,000 people from their homes. The brutal efficiency of his urban plans led to both a cultural blowback — as Robert Caro, Moses' biographer, once wrote, "He tore out the hearts of a score of neighborhoods" — and an economic boom. But the cost was a design emphasis on parkways, highways, and tunnels. In other words, the flow of cars over the safety of others.
What is most frustrating is just how simple some of the solutions to the issue of pedestrian strikes are. "They're things like speed-bumps, narrower roadways, one-way streets, and block-offs, so you can't speed down them," says Jeff Rosenblum, co-founder of The Livable Streets Alliance in Boston."It's not like they're complicated design solutions,"
They can be as simple as a roundabout. "Once roundabouts go in, it's amazing the improvement in safety," Ferrier says, "because they automatically slow speed and, anybody walking or biking through that roundabout becomes more visible."
To no one's surprise, statistics show that roundabouts create a 40 percent reduction in pedestrian collisions. There is a reason that English towns look like cursive essays when viewed from above.
Another method is to re-route cars along the perimeter "superblocks," or large commercial and residential spaced barred to traffic, crossed by pedestrian walks, and littered with shops and gardens. Barcelona has had enormous success utilizing superblocks to take back streets — and it has urban planners all over the world flocking to Spain to discover their secrets. The city had just 12 deaths from traffic accidents last year.
The other solution — perhaps the more immediate and sustainable one — is further investment in public transit, which skyrockets the safety of communities as well as the price of housing. The uniquely American issue, on that front, seems to be that cars are equated by many with freedom of movement. Ironically, this might be particularly true of new parents, who constitute a sizable market — after all, when your family grows, so will the need for more seats.
"You can just imagine someone closing their hand around their car and saying, 'You're not taking this freedom away from me!'" says Ferrier. "We've seen those kinds of fights in cities around the country when it comes down to individual projects. People will say, 'I'm not against bicycling, but I don't want my lane to be taken away and given to bicycles.'"
Still, there are a lot of hopeful signs for pedestrian rights. Younger people, for one, have a lot less attachment to cars. Millennials tend to care more about ride-sharing than the newest ride, which means the same people that are bringing children to cities may push the market in a direction that makes those cities safer.
"The next generation is not so infatuated with the car anymore," says Rosenblum. "They're starting to question, 'Why is the driving part of one's life getting priority over all the other parts?'"
Last year, pedestrian fatalities reached an all-time low in New York City, with 101 pedestrians killed. But New York City is not representative of the country as a whole. In the Fort Meyers, Florida area — a place with a tiny fraction of the population of New York — 165 pedestrians died in 2016, according to a report by Smart Growth America. Jacksonville, Florida, had 379. Bakersfield, California, had 205. The Houston area tallied over a thousand pedestrian deaths. The backlash has been depressingly muted in these regions.
"Typically, when there's a crash in the United States, it's called an accident," says Ferrier. "We say this is not an accident, it should be called a crash or collision, because it can be prevented."
In Park Slope, Brooklyn, the day after two children lost their lives in a pedestrian collision, activists could be heard outside the Park Slope YMCA, where Mayor Bill de Blasio, a mayor who's progressive on safety in his own right, likes to work out. A march to the scene of the crime was organized by parents and lead by children in the neighborhood a week later. As kids and parents marched down 9th street chanting "Whose Streets? Our Street!" it was clear that even the mayor who had adopted a policy with a goal of zero pedestrians deaths wasn't doing enough.
"Cities have the tools that they need to solve this problem," says Ferrier.
It's time we asked for them.
This article was originally published on