Introducing The League of Extraordinary Mohels
The Avengers they are not.
by Fatherly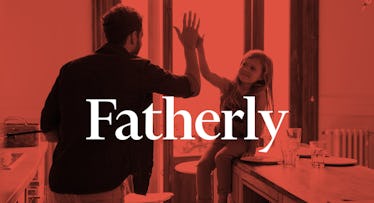 The fine folks at JTA.org recently did a roundup of "America's Top Mohels," profiling some of the most capable men (and one woman) to turn to when a simple circumcision isn't enough. Whether you want the little man done in accordance with three millennia of Jewish tradition, or you just figure that someone who snips with God is less distracted than your average maternity ward doctor, here's who you want to call.
1. FRED KOGEN: THE LEADING MAN
Snipped Tips: ~8,000
Region: Southern California
Time: 60 seconds or less
Anesthesia: Elamax cream and infant Tylenol.
Price: Varies
Intangibles: Mohel to the stars, including Jason Alexander, Michelle Pfeiffer, and Sharon Stone; once named Cosmopolitan Magazine's "Bachelor Of The Month."
2. MICHAEL ROVINSKY: THE COWBOY CLIPPER
Snipped Tips: ~9,000
Region: St. Louis and Dallas
Time: Less than 15 seconds
Anesthesia: On request but not recommended
Price: Suggested honorarium
Intangibles: Uses a numbing agent and healing ointment concocted by the Chief Mohel of Israel.
3. PHILIP SHERMAN: THE STRAIGHT MAN
Snipped Tips: 20,000+
Region: New York City
Time: 15-20 seconds
Anesthesia: No
Price: $800
Intangibles: Refuses to indulge the common mohel penchant for puns and humor during the ceremony: "What, no tip?"
4. YEHUDA LEBOVICS: THE FREQUENT FLYER
Snipped Tips: ~20,000
Region: Southwest, Northwest, California, Hawaii
Time: 20 seconds
Anesthesia: Sugar water
Price: From $685
Intangibles: No days off; will fly to Hawaii and head back to Los Angeles as soon as the deed is done.
5. EMILY BLAKE: THE QUEEN B(RIS)
Snipped Tips: NA
Region: New York City
Time: 60 seconds
Anesthesia: Lidocaine cream, Manischewitz, sugar
Price: $850
Intangibles: Continuing a tradition started when Moses' wife Tziporah circumcised her son.
6. PASACK KROHN: THE SWAT CIRCUMCISER
Snipped Tips: "The Talmud says a person should not count."
Region: New York Metro Area
Time: NA
Anesthesia: Upon request
Price: $500 – $800
Intangibles: Circumcised Senator Joe Lieberman's grandson at gun point; fifth generation mohel.
7.MAX MINTZ: THE LONE STAR SNIPPER
Snipped Tips: ~10,000
Region: Texas
Time: 60 seconds
Anesthesia: Yes
Price: $300 – $350
Intangibles: Known throughout Texas simply as "The Guy," regularly crisscrosses the state serving communities without mohels (read: most of them).
This article was originally published on