Matt Barkley Is Raising His Kids to Be Fit for Life on and off the Field
Fitness helps NFL quarterback Matt Barkley live life with his intention. He's passing that on (along with a tight spiral) to his sons.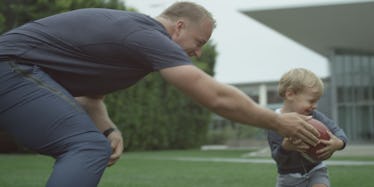 The following was produced in partnership with GMC Sierra, which enables fathers everywhere to "Dad Like a Pro." Together, we celebrate the dedication, discipline, and bold craftsmanship of parents whose achievements in business and at home help their children live full, healthy lives and change the world in the process.
Matt Barkley is a remarkably disciplined dude. His dedication to physical fitness, work ethic, and his support system are all unimpeachable. He's a guy who thinks about the future and prepares for it. The best-case scenario that is his life is the product of a process so sound and well-considered that even the slings and arrows of professional a career behind center in the National Football League haven't thrown him–or his family–off track.
Barkley has also enjoyed some good fortune. He has a former USC athlete as a father and coach, married and has two sons with his high school sweetheart (preschool, technically), and still calls Newport Beach, California home. But when you speak to the man, you quickly learn he never rested on those laurels, preferring instead to pay them forward. Barkley's outlook is one of intention, not of luck. Fatherly recently spoke to the 49ers signal-caller from his home about balancing family life with a hyper-demanding job, instilling core values in his sons, and what kids can learn from an active lifestyle — beyond how to fling a tight spiral.
You've been an athlete since you were a kid. Your father was an athlete as well. What did he teach you about competition?
My dad played water polo and swam distances, which I tried for about a week. The whole speedo thing didn't quite work out for me, but I always knew what he put in. There were stories of him swimming thousands of yards, of him throwing up in the pool and literally swimming through it, and of him diving into a school of jellyfish to save a friend. That selflessness was part of fatherhood for him. There was gravity behind what he was saying when he pushed me and told me what it would take to be great.
He always pushed me and my siblings to never complain, never give up, never make excuses. He instilled all those mantras in us through his expectations without saying anything.
How did your upbringing affect your approach to goal setting?
I approach each day with the goal of being intentional towards everything and getting better at something. So much of our time can be wasted whether browsing the internet, sitting on the couch, even driving around. Make those moments intentional with people and relationships or personal growth. Don't lose a minute to ineffectiveness. For me, it's studying my playbook even though the season doesn't start for two months, making my wife feel loved, or helping her make breakfast or clean up.
Do you try to raise your kids to have the same outlook? Does your son remind you of yourself?
I often think about how my dad coached and taught me about pushing through–no whining, no complaining, no excuses, never give up. My kid is two and he will fall down 10 times and still get back up. He doesn't have the give-up spirit. It's encouraging and cool and kind of crazy that he gets it, even at such a young age.
My approach is that the kid doesn't know exactly what he wants yet so I give him opportunities and if he doesn't like it, I won't torture him. If he can't hit a ball off the tee at first, that doesn't necessarily mean he doesn't like it–he just doesn't get it. So, now he's got this crazy swing for a two-year-old; he crushes balls off the tee.
He's a little stud.
How does physical fitness go beyond working out in the gym or going to practice?
Once you get older, starting the day off with a light cardio session or just getting your muscles moving puts you in a good mood for the rest of the day. I wake up tired, I work out for even 30 minutes, now I'm more alert in meetings, more awake, and my concentration is better. Fitness is a great roadmap to becoming more disciplined in life. You can set goals in the workplace, with your family. For me, it carries over into my intentionality with my kids and my affection for my wife.
For kids, being active, getting in any kind of workout–running around the park, playing in the streets with your buddies until the streetlights come on, running up and down hills, building forts–rather than sitting inside lets your mind work and develop in new ways and sets a tone for everything.
How has your support system helped you achieve success?
I'll never forget my mom and dad prepping me for interview questions as a high school sophomore. They grilled me like they were Pete Carroll. I was over it and shut the door on them. When we got to coach Carroll's office and he offered me a scholarship, I froze. I said yes but didn't exactly come off as confident with my prose. From then on, I heeded their advice and I still carry those lessons. My wife's taken over that role in a bigger way now; she encourages me and she's there when I don't want to talk to anyone else about a game. She's the rock of our home.
What did it mean when you achieved your goal of reaching the NFL?
Playing for USC and in the NFL was always my dream, but without something to look forward to, you can lose track of the big picture. So short-term goal setting has become more of a priority. I've reached the NFL, but I want a Super Bowl, I want to play for 10-plus years. That doesn't just happen.
How do you handle moments of uncertainty?
I've had quite a few of those in my short NFL career. We have a strong faith as a family so we keep things in perspective. Yeah, I want to play football forever but I know it will end one day so I don't put all my eggs in that basket. My family and son will be there and I'm going to be a father and husband to them. Keeping perspective about what's most important can help relieve stress at times and makes things easier in the long run.
Is that why you're also so committed to philanthropy?
I've been given a lot, so anything I can do to serve or give back to those less fortunate is meaningful. I feel service changes your own heart even more than it affects who you're helping because it forces you to be selfless and focus on others. Especially in the social media age, everything can be all about you if you want it to. So taking the attention off of yourself and giving it to others, for me and my extended family, at least, it's been huge in providing perspective about what really matters.
How do you think focusing on fitness best translates to success in other areas of life?
With the 49ers right now, we have three team rules. First, "Protect the team." That can go for your family or whatever your team is. Second, "No complaining, no excuses," which is funny because that's a family rule for me. Third, "Be on time." Those apply to way more than football. Being on time means showing you care, being attentive, being present and focused. Not having your phone at the dinner table or the gym or when sitting with friends. There's always that one friend who's always on their phone and it saps the life out of the situation. I don't want my kids doing that. Whatever they're doing, I want them doing that full-speed, all the time.
This article was originally published on