Why Can't Babies In Every Country Have The Same NICU Technology That Saved My Daughter's Life?
Daily deaths, all preventable.
by Bettina Barrow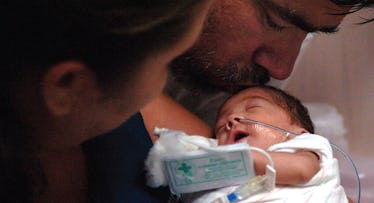 Every time you 'like' and share this post, Johnson & Johnson will donate $1 (per social action), up to $350,000, via the Global Moms Relay, to help improve the health and well-being of families worldwide in support of Shot@Life, Girl Up, Peace Corps Let Girls Learn Fund, U.S. Fund for UNICEF and Nothing But Nets. More below!
I will never forget the way I felt when I walked into the neonatology unit at the Yekatit 12 hospital in Addis Ababa. There were empty beds next to some of the mothers in the postpartum area of the unit, empty not because the babies were elsewhere in the hospital, but because they had died shortly after birth.
I was overcome with emotion, as were others traveling with us as part of a field visit to Ethiopia with U.S. Fund for UNICEF's NextGen. How was it possible that these mothers, in a hospital in the twenty-first century, were forced to endure the loss of a child for reasons that in other countries were entirely preventable?
As we continued touring the unit, led by renowned neonatologist, Dr. Mulualem, we learned how much of an impact NextGen's $150,000 donation would have on Dr. Mulualem's patients and their newborns. The equipment provided by UNICEF would equip the first neonatology intensive care unit (NICU). This equipment would help to ensure that mothers would no longer have to endure the loss of a baby shortly after birth.
I was so incredibly moved by what I saw in Ethiopia, and motivated to continue to fundraise and advocate on behalf of UNICEF. However, subsequently experiencing a NICU in a different way, as a mother myself, profoundly deepened my connection to those mothers at the hospital in Addis.
I'm not sure I can express in words the experience that is childbirth. Or my experience I should say. The anticipation, the excitement, the fear, the pain … it's all so overwhelming. The moment I met my daughter: I don't think I've ever screamed and cried like that in my life! I felt the most visceral, all-consuming kind of love, and I felt it on the spot.
So, when my baby was almost immediately whisked away from me because she wasn't breathing well, I was inconsolable. I didn't understand. She was taken to the NICU where she stayed for 4 days on oxygen. She was given antibiotics for pneumonia as a prophylactic measure until the doctors could determine what was wrong with her. She was monitored constantly, and supported by reliable machines. She had all the advantages that modern medicine and technology could provide.
When I think about the fact that a NICU saved my own daughter, I am even more inspired to do what I can to ensure that others around the world have the same opportunities that she did. I want to make sure that other babies around the world do not needlessly die from childbirth-related issues — that, with the proper technology and equipment, are relatively minor. I wish every child had access to that kind of medicine, technology and support, and I will keep working to make that a reality.
Bettina Barrow is member of UNICEF Next Generation (NextGen) and mother of 7.5-month-old India.
You share, they give: Each time you 'like' or share this post via the social media icons on this post, or comment below, Johnson & Johnson will donate $1 (per action) up to $350,000 to Shot@Life, Girl Up, Peace Corps Let Girls Learn Fund, U.S. Fund for UNICEF and Nothing But Nets.
The Global Moms Relay was created by the United Nations Foundation and Johnson & Johnson with support from BabyCenter, Global Citizen, Fatherly and Charity Miles, to help improve the lives of families around the globe. Share this post with the hashtags #GlobalMom and #JNJ, and visit GlobalMomsRelay.org to learn more.
You can also use the Donate A Photo* app and Johnson & Johnson will donate $1 when you upload a photo for Girl Up, U.S. Fund for UNICEF or Nothing But Nets, up to $150,000. You can help make a difference in seconds with the click of your mouse or snap of your smart phone.
* via the Donate A Photo app for iOS and Android. Johnson & Johnson has curated a list of trusted causes, and you can donate a photo to one cause, once a day. Each cause will appear in the app until it reaches its goal, or the donation period ends. If the goal isn't reached, the cause will still get a minimum donation.
This article was originally published on