Lin Manuel-Miranda's Mom On the Importance of Mothers' Mental Health
It's a chicken-and-egg sort of thing.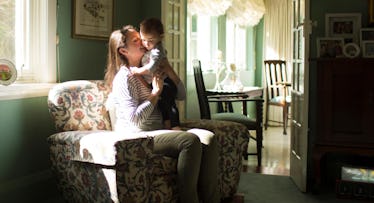 Every time you like and share this post, Johnson & Johnson will donate $1 (per social action), up to $500,000, via the Global Moms Relay to help improve the health and well-being of families worldwide in support of Shot@Life, UNFPA, Girl Up, UNICEF USA, and Nothing But Nets.
All new mothers need support. We used to live in tribes, but now many new moms are expected to figure out motherhood alone, far from family or friends, and forced to rely on the infinite "wisdom" of the internet, which can be, at best daunting, but at worst, dangerous. But it isn't just about help with laundry (though that's nice)!
As the context has changed and there is less and less support for mothers, we have created higher expectations for what a new mother should look like, feel like, and require from others. Basically, we expect them to experience the "joy" and "ease" of celebrity childbirth without all the help. But since Brooke Shields courageously came out about her experiences, I am thankful we are seeing more and more public figures speaking out about the lows, as well as the highs.
Maternal health and mental health care are essential for mom and baby. It's the classic chicken or egg scenario: a mom with a community (partner, family, friends, medical) that supports her mental health will be able to create an environment for a baby to feel secure and happy. A secure and healthy baby often gives mom confidence and security of her own.
Studies have confirmed what we all knew for decades: depressed, anxious mothers have depressed, anxious infants who then have less than optimal emotional health that hampers optimal development cognitively and emotionally. Infants learn about themselves from the facial interactions with their mother, a phenomenon called mirroring. It becomes hard to undo the impact of a mother's depression on her infant, and it puts the infant at a severe disadvantage the longer it goes untreated.
In our family, we think of mental health like any other part of our body. You have knee pain? See an orthopedic surgeon. You have stomach issues? See a gastroenterologist. Experiencing stress or anxiety? See a mental health professional. For us, this is technical assistance, cut and dry. There is no shame or stigma – why should there be? We have all gone for "technical assistance" at some point and we are stronger for it, but not everyone has the access that we have.
I wish that every family had access to regular prenatal and postnatal mental health services — and not just when they are in crisis. Let's catch the issue early on before we put babies at risk.
Luz Towns-Miranda, Ph.D. received her doctorate in clinical psychology from NYU and was licensed in 1985. She received a postdoctoral certificate from NYU's Postdoctoral Program in Psychoanalysis and Psychotherapy in 1998. Her varied experiences have included assessment and treatment of foster care children, running a therapeutic nursery, and teaching family practice residents at Bronx Lebanon Hospital Center and Montefiore Medical Center.
She has served on the NYS Board of Psychology since 2000. She presently consults with The Community Association of Progressive Dominicans, where she has been instrumental in the development of its mental health programs. She also consults to Acacia, a provider of mental health and substance abuse recovery services in the Bronx.
She has been on the 18B panel in all five boroughs for more than 20 years, conducting custody evaluations for the Family and Supreme courts. She is a member of the Trauma Specialization Certification Program Committee, NYU Postdoctoral Program of Psychoanalysis and Psychotherapy, teaching about the impact of trauma on children. Dr. Towns-Miranda serves on the national board of directors of Planned Parenthood Action Fund, the not-for-profit advocacy and nonpartisan political arm of Planned Parenthood Federation of America.
She and her husband Luis A. Miranda, Jr. have been married for 39 years and have two adult children, Luz Miranda-Crespo and Lin-Manuel Miranda. They reside in the Manhattan neighborhood of Washington Heights/Inwood.
You share, they give: Each time you 'like' or share this post via the social media icons on this post, watch this video or comment below, Johnson & Johnson will donate $1 (per social action), up to $500,000 divided equally between Shot@Life, UNFPA, Girl Up, UNICEF USA and Nothing But Nets. The Global Moms Relay was created by the United Nations Foundation and Johnson & Johnson with support from BabyCenter, Fatherly, Global Citizen, and Charity Miles to help improve the lives of families around the globe. Share this post with the hashtags #GlobalMoms and #JNJ, and visit GlobalMomsRelay.org to learn more.
You can also use the Donate A Photo* app and Johnson & Johnson will donate $1 up to $40,000 per cause when you upload a photo for Shot@Life, UNFPA, Girl Up, UNICEF USA or Nothing But Nets, to a maximum total of $200,000. You can help make a difference in seconds with the click of your mouse or snap of your smart phone.
* via the Donate A Photo app for iOS and Android. Johnson & Johnson has curated a list of trusted causes, and you can donate a photo to one cause, once a day. Each cause will appear in the app until it reaches its goal, or the donation period ends. If the goal isn't reached, the cause will still get a minimum donation.
This article was originally published on