The Ziro Is A DIY Robotics Kit That's Controlled By A Damn Power Glove
by Ali Carr Troxell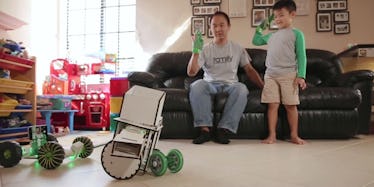 Remember the Nintendo Power Glove? It promised a future-is-now virtual reality experience that totally failed because it was 1989 and no one wanted a virtual reality that could only be rendered in 8 bits. Twenty-seven years later, a scrappy startup has finally delivered a STEM toy cool enough to make Fred Savage crap his pants: the Ziro, a hand-controlled robotics kit. It's just one more piece of evidence that your kid is growing up in a much cooler world than you did.
MORE: The 11 Best Toy Robots That Teach Kids Coding And STEM Skills
Ziro is a robot-building kit that replaces a traditional screen-based UI with a gesture-based one. The Pro Kit comes with 4 card deck-sized motorized modules, an app, and the "smart glove." Each module has 2 functions: A 360-degree rotation that can be used to drive wheels and a hinge function that can be used to slingshot things at your dog. The kit also has parts to construct a rover and a trike, but Ziro is meant to be a platform for all sorts of DIY robots. Go ahead and make a cardboard R2-D2 that's so cool, Disney might not even sue Ziro over it (emphasis on might). All of this is controlled by dramatically waving your hand.
There is one catch: Ziro is only taking pre-orders because it just recently completed funding on Indiegogo. Still, you're apparently not the only one who's been lusting after a Power Glove for 3 decades, because the company raised 236 percent more than its goal. And, given the benefits that playing with Ziro could hypothetically have for your kid — the exposure to robotics, engineering, physics, and design make it a STEM homerun — can you afford not to order one?
This article was originally published on