The Yesterday Vision Is an Insanely Cool Retro Gaming System
We haven't seen a more beautiful way to play the classics.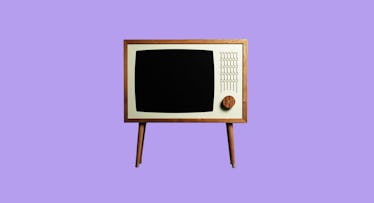 Retro gaming is back in a big way. There's no shortage of retro gaming consoles, miniaturized versions of classic consoles that come with HDMI outputs and pre-loaded games or emulator systems that allow you to play souped up versions of old favorites. But there's something left to be desired by these mini systems and they don't exactly inspire oohs and aaahs. At least we think that now we've laid eyes on the Yesterday Vision by Love Hultén. Housed in a handsome hardwood enclosure made to look like a 1950s TV set, the Yesterday Vision is a complete gaming system with monitor, speakers, and a Raspbery Pi computer that can emulate several classic gaming systems. It is damn beautiful.
The Yesterday Vision is made of mahogany, in a design that's decidedly mid-century modern, with angled legs, gold accents, and an overall look that would seem at home in Don Draper's second apartment. The single dial controls the volume and is also made of mahogany, with a subtle gold Y in the center.
It comes standard with a 19-inch, 4:3 monitor with 1280×1024 resolution, which is sub-high definition. In the era of massive widescreen screens, it's definitely an anomaly. The custom-barrel distortion that surrounds the monitor gives a curved appearance that mimics the curvature of the CRT screens completes the illusion. There's also an HDMI input in the back for connecting other devices.
The Raspberry Pi can, with somewhat questionable legality, play games from systems like the SNES, NES, Genesis, NeoGeo, MAME, Atari 2600, N64, and PSX, according to Hultén's website. It can connect to up to four wireless controllers via Bluetooth, but if you really want to go all out Hultén will include a pair of hardwood wireless controllers upon request.
Speaking of requests, because every Yesterday Vision is built to order you can also get with a different-sized monitor, one with proportions you're more used to. Hultén's website includes a 55-inch widescreen version with a shiny golden shelf underneath the display, which still has a cream-colored frame that uses barrel distortion to make it look like the world's largest (and widest) CRT.
It's a very cool idea executed beautifully, but it won't come cheap. The standard 19-inch edition is a whopping $2,799 before shipping, and we can only imagine that custom-designed and built options are even more. That's a lot to pay for a television, but if you've got some cash to spare and a keen interest sense of nostalgia, the Yesterday Vision is worth checking out, as are Hultén's other projects, similarly modern interpretations of vintage design and technology.