Yes, There's A Toy Hall Of Fame And Here's Who Made This Year's Cut
The Rubik's Cube, Little Green Army Men and old school bubbles have been announced as inductees into the National Toy Hall Of Fame at The Strong museum.
by Fatherly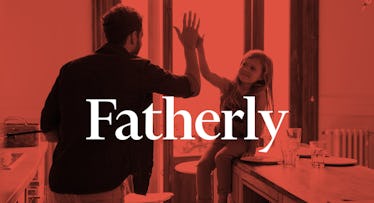 Announced recently, the three winners from the 2014 Toy Hall of Fame competition emerged from a class of 12 finalists that included the Paper Airplane, the Slip'N Slide, Operation, and My Little Pony. They got the nod by fulfilling 4 key criteria: icon status, longevity, fostering discovery, and innovation.
RELATED: Holiday Gifts: The 20 Best Kids Toys
Yes, there is a National Toy Hall Of Fame; it's at a museum in Rochester, NY called The Strong, which is devoted to "the history and exploration of play. Since 1998, they've curated a collection of inductees that includes everything from Play-Doh to the game of Chess. In a nice populist touch, anyone can nominate a toy for consideration, but the inductees are ultimately determined by an advisory board of curators, educators, and historians. You can question their taste (no Paper Airplane?!), but not their impartial bearing: This year's corporate-backed effort to enshrine the Hess Oil Truck was summarily rebuked.
There are currently 56 toys in the collection, and all but 2 are available through the Amazon or Ebay links below. As for the exceptions, you can probably find your kid a stick (2008) and the cardboard box (2005) without too much trouble.
2014: Rubik's Cube, Bubbles, Little Green Army Men
2013: Rubber Duck, Chess
2012: Dominoes, Star Wars Action Figures
2011: Blanket, Dollhouse, Hot Wheels
2010: Playing Cards, The Game of Life
2009: Ball, Big Wheel, Nintendo Game Boy
2008: Baby Doll, Skateboard, Stick
2007: Atari 2600, Kite, Raggedy Andy
2006: Easy-Bake Oven, Lionel Trains
2005: Candy Land, Cardboard box, Jack-In-The-Box
2004: G.I. Joe, Rocking Horse, Scrabble
2003: Alphabet Blocks, Checkers
2002: Jigsaw Puzzle, Raggedy Ann
2001: Silly Putty, Tonka trucks
2000: Bicycle, Jacks, Jump Rope, Mr. Potato Head, Slinky
1999: Duncan Yo-Yo, Hula Hoop, Lincoln Logs, Radio Flyer Wagon, Roller Skates, View-Master
1998: Barbie, Crayola Crayons, Erector Set, Etch-A-Sketch, Frisbee, LEGO, Marbles, Monopoly, Play-Doh, Teddy Bear, Tinkertoy
This article was originally published on