This Ride-On Food Truck Lets Toddlers Take Their Fake Meals on the Go
Because it's never too early to teach toddlers the importance of bringing home that money.
by Dave Baldwin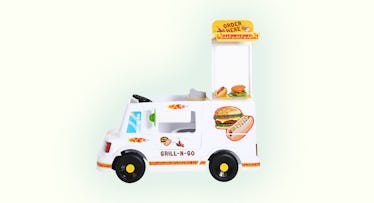 Considering the popularity of both food trucks and luxury Power Wheels, it was only matter of time before someone came out with a toddler toy version of one. Why it took so long we have no idea. But damn does the Rollplay EZ Steer Grill N Go Food Truck, which is designed to blend creative play with relatively douchey play, look awesome.
The Rollplay EZ Steer Grill N Go Food Truck is a hipster parent's dream, a 6-volt, ride-on vehicle for kids ages 2- to 5-years-old. It has an extendable serving window for selling fake burgers and dogs. The driver-side door opens so they don't have climb in, it features realistic sound effects, and it tops out around 1.3 mph, so there's little danger of them tearing out of the garage and hitting the cat. And, because toddlers are often poor drivers with little comprehension of forward and reverse, the Grill N Go Food Truck features 360-degree EZ Steer technology so they can smoothly turn their way out of corners and away from walls.
MORE: 9 Games to Play Inside With Your Kids on Rainy Days
But the big sell of the EZ Steer Grill N Go Food Truck is, obviously, the fold-out play kitchen and ordering counter. Once parked, it pops up from the back of the truck and allows them to get busy grilling those burgers and dogs, both of which are included. As are all the necessary cooking implements and even a cash register for them to bring home that money and/or make proper change.
The Grill N Go gets one hour of drive time per eight-hour charge, so you don't want to let them venture too far. And if your kids would rather scoop ice cream than sell burgers, Rollplay also sells a similarly styled ice cream truck. Ironically, both are exclusively available for $179 at Toys 'R Us, a store hipster parents wouldn't be caught dead in for all the street food at Smorgasburg.
This article was originally published on