This Genius Ice Pack Keeps Beer Cold For up to 12 Hours
It's so much more than an ice pack wrapped in a giant rubber band.
by Dave Baldwin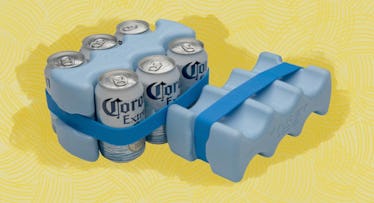 At first glance, Yaket Ice looks like a standard reusable ice pack wrapped in a giant rubber band. It's hard to tell what's actually being sold ⏤ the band, the 6-pack, both? ⏤ and even if you don't know anything about patent law, you're still left assuming there's a 'cease and desist' letter in the mail somewhere. It looks pretty basic.
Turns out, not so much.
Well, there's at least more to this reinvented ice pack than first meets the eye. The brainchild of two brothers in North Carolina who previously invented silicone sleeves for YETI Tumblers ("a YAKET for your YETI," as the name came to be), Yaket is actually a patent-pending, high-performance 6-can beer chiller designed to stand apart from the rest of the … pack. There are three things worth noting: One, the Yaket Ice is taller, longer, and heavier than standard double-sided coolants (9.9-inches by 3.25-inches by 5-inches) and is designed to hug almost the entire can of beer or baby's bottle; while still fitting in all the best coolers.
MORE: The Best Coolers and Ice Chests For Hauling Beer, Burgers, and Plenty of Juice Boxes
Second, the non-toxic coolant inside is reportedly of a higher quality and, in addition to freezing at -15C/5F, keeps drinks "27 degrees colder." In fact, they claim to have partially frozen bottles of water during testing. Third, the Yaket Ice's rubber band. It's a grooved compression band that wraps tightly around to ensure the cans, bottles, etc. are always in contact with the ice pack. Better still, the whole pack sits on tiny feet in order to avoid touching the bottom of the cooler and thus it absorbs less heat. Under optimum conditions, the Yaket Ice will keep drinks cold for up to 12 hours.
The Yaket Ice has been put through a barrage of stress tests ⏤ including being dropped repeatedly on concrete, moved from freezer to 100+ degrees over and over, etc. ⏤ and appears to be ready for launch. The only thing the brothers are currently awaiting is cash from Kickstarter, where the campaign is already fully funded with a couple of weeks to go. Pre-order online today for an October delivery.
This article was originally published on