The Syng Cell Alpha Wireless Speaker Isn't Designed to Hide
This speaker looks as good as it sounds.
by Sal Vaglica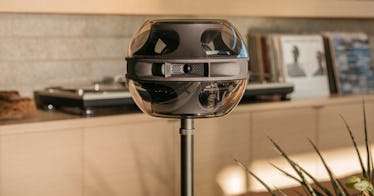 The trend with the wireless speaker has been to go ever smaller — so the tech blends into the background of your living room, kitchen, or office. The sound is decent, and the design is… unobtrusive, at best. The Cell Alpha speaker transcends those limitations. Like everything from the Apple HomePod to Amazon Echo Studio, Syng's wireless speaker works off the concept of room-filling sound from a single device — what's new here is the style and some of the technology.
A modern version of your dad's cabinet speakers, the Cell Alpha is meant to be seen as much as heard. Wrapped inside a clear plastic dome are speakers arranged in a sandwich: two 6.5-inch diameter woofers, above and below, and three 3-inch-wide drivers around the middle. There's a set of amplifiers mixed in, too. The result is sound projected into the room no matter where you stick the speaker. Syng claims that with one Cell Alpha you get surround-sound without the gaggle of black boxes spread around the room. This speaker uses three microphones — a technology we've seen before in HomePod — to calibrate the sound. It sort of knows where the walls and obstructions are and tweaks the sound to adjust.
But the format of the music the Cell Alpha plays is where it gets interesting. You might have come across Dolby Atmos if you've shopped for a wireless speaker recently or switched streaming services: Atmos is the latest level of recording, offering listeners what's described as "3D sound." It's a game-changer — but to reap the benefits, both the music you're listening to and the speaker it's coming from have to have Dolby Atmos quality. Syng tells us that's not the case with the Cell Alpha — meaning your existing collection of music, from vinyl to Spotify, will still get the surround-sound upgrade.
You can feed tunes into the Cell Alpha with AirPlay 2, Spotify Connect or via wifi. It won't work with Bluetooth, unfortunately. The single hardware option is a pair of USB-C inputs to connect a laptop, record player, or in the future, your TV.
Every product on Fatherly is independently selected by our editors, writers, and experts. If you click a link on our site and buy something, we may earn an affiliate commission.