The Winnebago Paseo Is A Family RV Packed With Some Big Amenities
Van meets RV meets living room.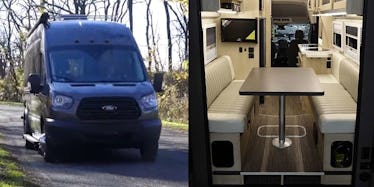 You'd love to pack the kids up in an RV and go on a road trip, but parking one of those things in your driveway will get notes from the neighbors dropped in your mailbox and, frankly, it's hard to justify buying a car that's too big to run everyday errands in. Until now. Meet the Winnebago Paseo.
MORE: The Best Campers, RVs, and Rooftop Tents For Your Summer Adventures
You probably never considered yourself a Winnebago Man, but the 2017 Winnebago Paseo may have your rethinking that. The 22-foot Cadillac of campers is a hybrid between a van, an RV, and your den. The biggest benefit is that it's more spacious and tricked out than your average Windstar, but way sleeker than the typical motor home. The Winnebago Paseo is built on a Ford Transit Van chassis with an EcoBoost engine, which translates to more power and better fuel efficiency (at 15 to 17 miles per gallon) than the other vehicular yachts you see rambling down the highway. Make no mistake, this is still a lot of van, especially when you have to make a propane run in the middle of a weenie roast. But that's fine — you can just bring an extra car with the Winnebago Paseo's 5,000-pound towing capacity.
The Winnebago Paseo's back is pure Pimp My Ride territory with a full range of facilities. The kitchenette includes a 2-range stovetop, convection microwave oven, Nova Kool refrigerator, stainless steel sink, and a swing-up leaf to add counter space if you decide to host a Chopped competition using a mystery basket full of gas station snacks. The living area includes a bath/shower area, closet, drawers and storage cabinets, and a dinette area in the back that can seat up to 4 for family dinners on the road. And the Winnebago Paseo's benches double as a Flex Bed System you'll be able to set up faster than you can get your kid to go down for nap time. Now that you have everything on the road that you do at home, hopefully, your family will be cool with putting up that "For Sale" sign in the yard.
This article was originally published on