There Are The Best Deals On Star Wars, Marvel, Hot Wheels, And Mattel Toys Right Now
Star Wars. Marvel. DC Comics. Mattel's slashed prices on more than 100 Hot Wheels toys.
by Dave Baldwin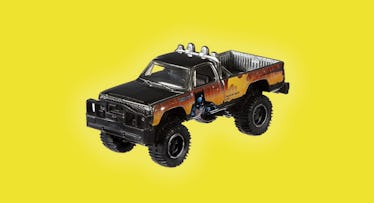 If there's one toy almost every dude can remember pulling out of his Christmas stocking as a kid, it's a Hot Wheels car. Mattel's been making the die-cast toy rides since 1968 and the looping orange tracks are about as ubiquitous as Lego or Star Wars action figures.
RELATED: Why 'Star Wars' Endures From Generation to Generation
In fact, they're as popular with kids today as they were back then ⏤ maybe even more so considering Mattel snatched up their main competitor, Matchbox, along the way. The only difference between now and 1968, when only 16 cars rolled off the tiny assembly line, seems to be that today they sell about a million different cars, sets, and launchers. Seriously, there are tons of them, and many are cross-branded with popular movies, games, or comics like Star Wars, Marvel, or Minecraft. It's pretty rad.
ALSO: Best Superhero Toys & Gear For Kids
Even radder? The fact that Mattel's always kept the price pretty reasonable: a single car today still sells for under $5. Or, as is the case right now, even less. The company's currently slashed prices on a whopping 116 different toys, some by as much as half off. For example, the Star Wars Tie Factory Takedown Track Set is now only $12, down from $25. For parents eager to stuff those stockings early ⏤ and save some loot in the process ⏤ it's worth taking a look. A few of the highlights include:
Toy Deals: Die-cast Star Wars Ships
Not surprisingly with the upcoming release of The Last Jedi, there's a galaxy full of different discounted Star Wars toys. In addition to the Tie Factory, look for the $2 X-Wing Fighter, $3 Blast Attack Millenium Falcon, and $7 Battle of Geonosis Play Set.
Toy Deals: Artificial Intelligence Race Sets
There are big savings on Hot Wheels' newer line of artificial intelligence app-controlled race cars including 20 percent off the four-car gift set ($159, down from $200) and expansion sets that now sell for $28.
Toy Deals: Classic Tracks and Single Cars
And finally, a number of tracks sets are selling on the cheap including the Hammer Blast for $5, Mega Rally for $10, and the Builder Construction Gift Set, which has been marked down from $52 to $42. They're also knocking $1-$2 off single cars like the Lamborghini Gallardo S or the '71 Chevy El Camino, which may be just like the one you found in your stocking that year.