This Is The Best Artificial Christmas Tree, And Buying It Was the Best Holiday Decision I Ever Made
I wanted a real Christmas tree, but it was too dangerous to have around my young kids. So I searched for a fake one. This is the best.
by Brendan Charles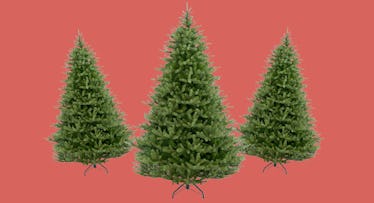 Amazon
I've always been a Christmas purist. For me, the joy was in the details: Pick out a tree on the first weekend of December, play Christmas crooners while putting up the lights, and sip on a glass of eggnog while listening to "Little Drummer Boy". I always thought this tradition was part of what made Christmas, well, Christmas. So, of course, I couldn't wait to experience this ritual with my wife and kids. But parenting, as it turns out, doesn't always take your dreams of Christmas perfection into consideration. The glass ornaments were the first thing to go (dangerous). Then we put the tree out of reach (clumsy toddler.) I felt like I was losing my grip on that ideal vision I had of Christmas. Everyone seemed to be suggesting we buy an artificial tree, but to me, that was a point of no return.
RELATED: How to Child Proof a Christmas Tree
However, as my kids continued to grow and our traditions changed around them, I had a very Grinch-like realization. Maybe Christmas isn't about the details of old traditions, but the new ones you make with your family. For every glass ornament we had to toss, a new one had to take its place. And so this year I conceded and we finally began shopping for an artificial tree. It started with window shopping, not wanting to commit quite yet. I was, at first, unimpressed. Many looked, well, fake, with sprayed on snow and built-in lights. But eventually, we stumbled across one from the National Tree Company at Costco. And it kind of blew me away.
This spruce-like artificial tree was 7.5-feet tall, and the tips of it looked just like a tree you'd find in your local Christmas tree farm. What I loved is there were no gimmicks. No wifi rainbow lights or fake snow — just a tree that was trying its best to look legit. Just like that, we took it home.
Setup was surprisingly easy. It came in three parts and the base was sturdy, which was important because I was never 100 percent confident with my plywood-inserting balancing act I had going with real trees. It was so fast that it actually gave us more time to decorate, which was the fun part anyway. The best part was there wasn't a carpet of pine needles to clean up afterward. And guess what? Once the decorations were up, I took a step back and the sight of the tree was just as magical as the real thing.
Did I also miss hunting for our natural Christmas tree this year? Not the cold, of course, but part of me feels like the dad and son that ran our local operation shed a single tear when we didn't show. I miss the smell of a real tree, too. Sure, they sell tree spray but I don't really want my house smelling like Christmas cologne.
But, it'll do. There's still eggnog. There's still that warm feeling of family around, and we still unironically listen to Bing and Bowie singing "Little Drummer Boy." None of that feeling is fake.
This article was originally published on