6 Great Whiskeys for Winter — and the Holiday Cocktails to Make With Them
The holidays demand a special drink. Here, then, are five excellent whiskey cocktails and the brown stuff that pairs best with them.
by Nicholas McClelland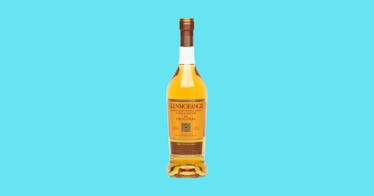 When you feel like kicking back after wrapping presents and stuffing stockings and handling all the hard work that goes into making the holidays feel so merry, don't reach for that same-old gin and tonic or whiskey on the rocks. The holidays demand something a bit more special or else they don't feel special. So why not try one of these holiday cocktails, which pair well with winter, or at least the whiskeys with which we've paired them. From a simple twist on the Old Fashioned to a few fancier shakes, these drinks will settle you into the holiday and well into the colder months.
Sagamore Spirit's Rye Winter Spiced Old Fashioned
Old fashioneds are great all year long, but to make it more of a winter warmer, kick it up a notch with Sagamore Spirit's Cask Strength Rye. Full of fruit and a peppery spice, this 112 proof whiskey adds a bit of heat to keep you all warm and fuzzy even when there's ice in your glass.
How to Make a Winter Spiced Old Fashioned
Ingredients:
2oz Sagamore Cask Strength Rye
3-6 dashes of Angostura Bitters
1 tsp simple syrup
Cinnamon stick and slice of pear
Directions: Combine all ingredients. Serve in a rocks glass over ice and garnish it with a cinnamon stick and pear slice.
*For a little more winter spice, add a few sticks of cinnamon and cardamom pods to your water and sugar when making the simple syrup
A Fistful of Bourbon Bourbon Alexander
Creamy and delicious this playful interpretation of the brandy classic makes a great party starter or nightcap. Fistful of Bourbon's caramel and toffee notes that ride the cream and cacao around your mouth for a tasty and satisfying treat that goes well in the drink.
How to Make a Bourbon Alexander
Ingredients
1oz Fistful of Bourbon
1oz Creme de Cacao
1oz Half and HalfNutmeg
Directions: Combine all ingredients in a coupe glass. Garnish with nutmeg.
Knob Creek Egg Nog
You can make your own homemade eggnog or buy a quality pre-made bottle at your local grocery store, but we prefer bourbon to the traditional rum. Our go-to when spiking the nog is Knob Creek. Its strong vanilla and caramel notes mingle well in this creamy concoction.
How to Make Knob Creek Egg Nog
Ingredients
5oz eggnog
1-2 oz of Knob Creek
Grated nutmeg
Grated cinnamon
Directions: Mix ingredients. Serve up or on the rocks. Garnish with grated nutmeg and cinnamon .
Glenmorangie Original Scotch Buck (aka Glasgow Mule)
While we enjoy complex cocktails, the three ingredient simplicity of a Buck makes for an easy happy-hour staple or quickly-whipped-up party drink. In the summer, we might pick a bourbon, but in the colder months we prefer a single malt like Glenmorangie Original. The whisky's citrus notes are accentuated by the fresh lemon and ginger in the drinks other two components.
How to Make a Scotch Buck
Ingredients
2oz Glenmorangie Original
3/4oz lemon juice
4oz ginger beer
Directions: Combine all ingredients; serve over ice in a highball glass
A Penicillin with Famous Grouse and Laphroaig 10
It's a bit fussy but the Penicillin is one of our favorite cocktails because it incorporates not one, but two Scotch whiskies — a blend and an Islay. We like to start with a base of Famous Grouse for its lovely honeyed notes and use the invitingly smokey Laphroaig 10 to top it off.
How to Make a Penicillin
Ingredients:
2 oz Famous Grouse
3/4 oz lemon juice
3/4 oz honey-ginger syrup (boil 1 cup honey, 1 cup water with 1 large piece of fresh ginger, finely sliced, reduce, strain, chill)
Directions: Pour ingredients over ice; top with 1+1/2 oz Laphroiag
This article was originally published on