These Stuffed Animals Will Soothe Your Crying Baby Back to Sleep So You Can Stay in Bed
Whisbear's Humming Bear and E-zzy Sloth contain hidden noise machines that kick on when your baby cries.
by Dave Baldwin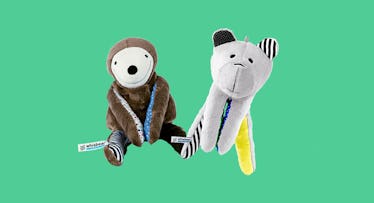 Babies wake up crying in the middle of the night for many reasons. Some cries require immediate action (a bottle or a new diaper) while others call for a hint of parental patience ⏤ give them a minute, and they'll find their way back to slumber. The problem, of course, is that it's hard for new parents not to rush in at the sound of the first wail, even when they should put a pillow over their heads and try to sleep instead. And that's where Whisbear comes in: It's a cuddly stuffed animal with a built-in pink-noise machine and "CrySensor." It clips to the crib and when the baby starts crying, it automatically kicks on and soothes the baby back to sleep.
Inspired by Dr. Harvey Karp's '5s' and invented by two Polish sisters/moms from Warsaw, the Whisbear is popular in Europe (count Princess Kate as a fan) but has only just arrived in the U.S. In fact, it made its debut at last week's JPMA Baby Expo in Washington, DC. Similar to Dr. Karp's SNOO bassinet (but without the vibration, and much, much less expensive), the Whisbear fires up at a baby's first cry and stays on for 40 minutes, gradually increasing or decreasing the volume as needed, before switching to standby mode. If baby wakes again, Whisbear turns back on. This can go on for three hours although it shouldn't, as it's likely the baby needs real attention at that point. Obviously, most parents will recognize when the Whisbear has given it the old college try and will check in on their crying kid.
There are currently two toys in the collection, one of which is already available ⏤ Whisbear the Humming Bear ($50) ⏤ and one on the way in July, E-zzy the Sloth ($129). There's also a small travel version, Whisbird the Soothing Bird, but it doesn't appear to be available to U.S. consumers. Both super soft animals are based on stick-figure drawings, have rustling multicolored paws with magnetic closures (to latch to the crib), and are machine washable ⏤ simply pop out the small device inside (it uses 3 AAA batteries).
The big difference between the two is that E-zzy the Sloth is a smart device that will sync with an app, can be programmed, and will provide cry notifications to your smartphone, essentially acting as a baby monitor without the actual noise. Which is pretty clever. E-zzy will also have other features to justify the higher price including adjustable noise type/duration (so, not just pink noise for 40 minutes), a sensor sensitivity setting, programmable on time, and USB charging.
This article was originally published on