Where to Buy This Year's Hottest Toys Before It's Too Late
If your kids have any of these on their lists, get shopping right now.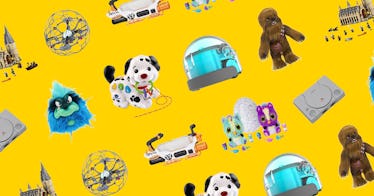 According to market research firm NPD Group, more than half of shoppers waited until the end of December to complete their holiday shopping. You might be able to get away with that for things like housewares and electronics, but toys are a different story. Every year there are certain toys that, despite the best efforts of toymakers and retailers, sell out online and in store. Supply shortages leave procrastinator parents with the unenviable choice of paying an arm and a leg on the secondary market or facing down disappointed kids on Christmas day. This is especially true if your kid is a trendsetter, in the know about this year's hottest new things. Toys like the ones on this list.
Fingerlings HUGS
Fingerlings were arguably the hottest toy of the 2017 holiday season, selling out at major retailers — despite quantity limitations — and going for three and four times their MSRP from resellers. HUGS, the bigger, cuddlier version of the interactive monkey toy is primed to duplicate the success of its smaller ancestor. HUGS are brightly colored monkeys with velcro hands that help them "hug" kids. They respond to noise and motion, most notably by farting when shaken.
Pomsies
With stiff competition from Fingerlings and Lil' Gleemerz, among others, the makers of Pomsies set out to maximize the possible cuteness an interactive toy could have. They came up with Pomsies, little balls of pastel fur with catlike features and a tail that lets kids wrap them around their hands, backpacks handles, or anything else and take them on the go. Their eyes glow different colors depending on their mood, and they carry names like Pinky, Speckles, and Sherbert. They're listed as in stock but scheduled to arrive after Christmas on Amazon, so you may need to dig around the internet or hit the pavement to secure one for your kid.
Sponsored
littleBits Electronic Music Inventor Kit
Amateur musicians have never been more numerous or more popular than they are now. Any toy that lets them make their own music is sure to be a hit, especially if that toy also lets them build their own instruments. Out of the box, kids assemble the components in this kit — including electronics like an accelerometer, proximity sensor, oscillator, 13-switch keyboard, and microsequencer — into one of four musical instruments like a keytar or air drums. They use the free companion app to guide them through over 12-plus activities so they can customize their own instruments and rock out for the masses.
Harry Potter Training Wand
The juggernaut that is Harry Potter continues to inspire innovative toys two decades after the first book in the series was released. This line of wands, available in Dumbledore, Harry, Hermoine, and Voldemort varieties, responds to specific movements, 11 different patterns that correspond to spells like Wingardium Leviosa and Mimblewimble from the Wizarding World. A toy that lets Potterheads imitate their favorite wizards that lights up and makes noise when a spell is correctly cast? Sounds like a bestseller to us, especially on the heels of yet another blockbuster film coming out just weeks before Christmas.
HatchiBabies
At the nexus of interactive toys and surprise toys, two of the biggest recent trends in toys, sit Hatchibabies. Kids don't know exactly what they're getting until, after some time spent holding the egg, a boy or girl baby version of 2016's hottest toy will peek its head through the shell as it cracks open. The huge, recent success of its grown-up siblings makes us think that Hatchibabies are as surefire a hit as any toy on this list.
littleBits Avengers Hero Inventor Kit
Toys inspired by The Avengers franchise are going to be huge this holiday season. And while a wearable gauntlet with programmable components would be cool no matter what, the fact that your Avengers-loving kids will feel like Tony Stark when they strap it on makes it doubly awesome. Kids can assemble electronic building blocks like an accelerometer, button, low energy Bluetooth chip, light sensor, power button, speaker, and LED matrix onto the gauntlet and program them using the coding platform on the free companion app. Once they've mastered the basics, they can play for hours with over 30 in-app activities and create their own custom Super Hero identity and superpowers to match.
L.O.L. Surprise! Dollhouse
If your kids have one or two or a dozen L.O.L. Surprise toys, they'll definitely be interested in this wooden dollhouse to house them all. Isaac Larian, the founder and CEO of the company behind the brand, is already warning of shortages, and while he certainly has his reasons to get people to buy toys early, the massive success of the brand means that we wouldn't risk waiting until the last minute to pick up the latest in the line.
Paw Patrol Ultimate Rescue Fire Truck
Paw Patrol, the Nickelodeon series about a group of rescue dogs, continues to be a huge hit for the network. It's the number one-ranked preschool show on TV and there's no shortage of toys, from board games to action figures, for kids who love the series. This fire truck, with its sound effects, extendable ladder, and cannons that propel plastic "water," is already sold out on Amazon (though it is available from other sellers on the site's marketplace). It's a great choice if your kid keeps asking if you can move to Thunder Bay.
Untamed T-Rex by Fingerlings
At time of publication, we found less than a dozen of these finger-sized electronic dinosaurs left in stock on Walmart's website. Some colors are still available online, but others are only available in store, so if you're planning on picking up this roaring (and yes, farting) toy, do it as soon as you can.
Little Live Scruff-A-Luvs
If you're not quite ready to get a family pet, this line of pink and purple dolls is a lower maintenance alternative. They arrive in rough space, with matted fur, in need of washing, grooming, and, of course, loving from your kid. Some of the proceeds from these dolls actually go to the ASPCA, but we'd bet that the strong sales this toy has shown in the lead-up to the holiday season have more to do with its cuteness and how it makes kids feel like they're really caretakers.
VTech Pull and Sing Puppy
This educational puppy is currently the number one toy in its category on Amazon despite the fact that it's only available for third-party sellers at the moment. You can get one there for about $28, or over twice the suggested retail price. That number is only going to go up as Christmas gets closer, so get shopping now.
PlayStation Classic
The original PlayStation sold over 100 million units upon its release in 1994, making it the second highest-selling home game console ever, behind only the PS2, a console whose success was predicated upon that of its forebear. So it made a lot of sense when we heard that Sony was (finally) following in Nintendo's footsteps with an updated version of the console, complete with modern A/V connections and pre-loaded titles. With an early December release date and an affordable $100 price tag, we're betting that nostalgia- and value-motivated gamers will be eager to pick up the latest retro gaming console.
Lego Harry Potter Great Hall
This set is much more manageable than the 6,020-piece, $400 version of the entire school. It's currently sitting pretty as the number three bestselling building set on Amazon, behind two other Lego sets. As the holiday season ramps up and parents who know that their kids love Legos and the Wizarding World start shopping, this 14-inch tall set that comes with a whopping 10 minifigures is going to be one of the most popular sets out there.
Star Wars FurReal Interactive Chewie
It was only a matter of time before Star Wars cashed in on the lucrative interactive toy market. There was the massive success of the Sphero BB-8 droid when it came out, and this year the hot Star Wars toy looks to be this much cuddlier Chewbacca, part of the FurReal line from Hasbro. There are fewer better bets than that a toy from Star Wars will be successful, particularly when it's also a part of a bigger trend in toys. The online shortages we've already seen online mean that, despite its fairly steep price tag, this toy is likely to sell out.
Airhogs Supernova
Looking over this list, you'll see certain categories are huge sellers. Interactive toys, for example, are available in pretty much any variety a kid might be interested in. This toy is kind of the opposite, the first (and as far as we know, only) motion-controlled drone, an insanely cool toy that might be even cooler than remote-controlled toys, which is saying something. It's already scarce on Amazon and other sites, and we can't say that, given its unique place in the world of toys right now, we're at all surprised.
Don't Step In It, Unicorn Edition
This unicorn version of the wildly popular "avoid stepping in poop" game is an Amazon exclusive, and it's already sold out. It's only been on the site since July, and such strong sales numbers since launch mean that if you see this toy become available and if you think your kids would enjoy it you shouldn't wait to click the buy button.
Nerf N-Strike Strongarm Blaster
While it doesn't have the firepower of some larger Nerf guns, this handheld blaster quickly fires six darts in a row up to 90 feet, more than enough for a casual Nerf battle or two. The Strongarm's lower price point and overwhelmingly positive Amazon feedback (4.4 stars on 4,100 reviews) where it's also the number seller in the ever-popular toy blaster category make us think this one will be a popular gift this holiday season.
Grumblies
In a sea of saccharine, pastel-colored happy interactive toys are Grumblies, the only toy we've seen this year that brings a loveable crotchetiness to the interactive pet space. The box says kids shouldn't shake, flip, or poke Grumblies, which makes it all the more fun to do all three things and feel them explode (vibrate and make loud noises) with rage. If your kid would appreciate an ornery toy, we recommend picking this one up as soon as you can.
Ozobot Bit Coding Robot
Sales of STEM toys, particularly those that help kids learn coding, are booming. Last year, Amazon put the Ozobot on its hot summer toy list, and the miniature robot that can follow paths and react to colors on a piece of paper has sold well there since, at least in part because it's smaller and cheaper than its competitors. It is currently the number one seller in the site's remote- and app-controlled figures and robots category, and one of the few toys in its class that's appropriate for kids as young as six years old.
Barbie DreamHouse
Mattel released the first Barbie Dreamhouse in 1962, and it's been a bestseller ever since. This year's version features a slide, six rooms, and a garage for Barbie's vehicles. It's a worthy next entry in a long line of successful toys and, given that lineage, one that we think will do big numbers this holiday season.
This article was originally published on