Facebook Messenger Kids: What Parents Need To Know
Messenger Kids offers a parentally-controlled, ad-free messaging app for children. But it may not go far enough to protect privacy or online behavior.
by Ben Marx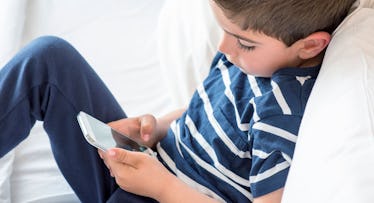 Facebook is debuting a new messaging platform specifically designed for kids. Messenger Kids is a standalone app available today in the U.S. on iOS devices including the iPhone and iPad, offering a privacy-focused, parentally-controlled chat experience for kids aged 6 to 12-years-old. That age range is important given Facebook's stringent policy barring kids younger than 13 from creating an account on the social network. But Messenger Kids does not require children to have an account and puts in place a number of predator barriers while boosting parental visibility to make the app safe for kids. Here's what you need to know before downloading the app to your kid's device.
READ MORE: The Fatherly Guide to Keeping Kids Safe Online
Facebook Messenger Kids Only Has Two Functions: Video-Chatting and Messaging
Messenger Kids is not Facebook. That is, it's specifically for communicating one-on-one and nothing else. Kids can only message and video-chat with their family and friends, and the keyboard features "a library of kid-appropriate and specially chosen GIFs, frames, stickers, masks, and drawing tools," according to Facebook's announcement post. There are no profiles or timelines, so no need to worry about a kid oversharing with a stranger. Plus, it's entirely free of ads.
Parents Have Significant Control
On Messenger Kids, parents have to approve a child's contacts before they can message anyone. Messages never disappear, like on Snapchat, and can't be deleted as they can be on regular Facebook Messenger. In other words, there's full transparency regarding what a child's sending, and who they're sending it to. Parents and kids can also block anyone they don't want to talk to and can report inappropriate messages, even after a contact has been approved.
MORE: The 8 Best Augmented Reality Apps For Kids
Some Safety Features Are Automated
Messenger Kids reportedly has special protections to block abusive content from appearing in the app. In an email to Gizmodo, a Facebook spokesperson said, "We've built automated systems that can detect things like nudity, violence, and child exploitative imagery to help limit that content from being shared on Messenger Kids. We also have blocking and reporting mechanisms, and have a dedicated team of human reviewers that review all content that is reported."
Privacy Is Still Problematic
Messenger Kids may not go far enough to address privacy concerns of some parents. Facebook says that the app will collect minimal data from its users in order to "find ways we can improve Messenger Kids." The app also identifies which contacts the user interacts with most frequently. But given the app is an iOS exclusive, parents should be aware of how to lock down other apps on the iPad or iPhone which may have their own privacy issues.
Common Sense Media, the non-profit organization promoting responsible media for children, voiced similar concerns in a statement, saying: "A messenger app for kids under 13 that only parents can sign them up for sounds like a nice idea on its face, but without clear policies about data collection, what happens to the content children post, and plans for the future, it is impossible to fully trust the platform … We encourage Facebook to clarify their policies from the start so that it is perfectly clear what parents are signing up for."
Facebook Messenger Kids Doesn't Dissuade Unhealthy Online Habits
Currently, Messenger Kids doesn't allow parents to control how much time their kid spends using the app, but this feature may appear in future versions. Even with parental controls in place, kids can still spend a significant, arguably unhealthy amount of time on the app. That could be problematic considering a growing body of research suggesting more screen time isn't ideal for a child's development.
In a way, Facebook created a gateway product for young users that aren't allowed on its main social media platform. And while the scaled-down messaging app is safer for children than a full Facebook account, Messenger Kids shouldn't necessarily be considered edifying to a kid's growth and educational discovery. It's still a chat app. It's not like Jellies, the alternative to YouTube Kids.
Messenger Kids is available today on the Apple App store.