We Can't Take Our Eyes Off This Ridiculous Motorcycle Rocker For Kids
It has working taillights!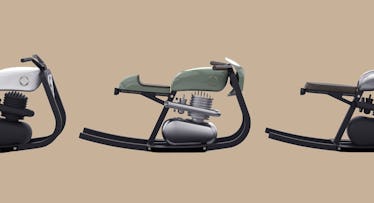 Sure, you could plop your kids down on a traditional Rocking Horse. But where's the excitement in that? That's likely the thinking behind The Moto Rocker, a luxury toddler toy that fuses a high-end rocking horse with a superbike. It's perhaps the most ridiculous children's plaything we've ever seen. But we can't take our eyes off it.
The Moto Rocker is the brainchild of industrial designer Felix Monza, a former model builder, metalsmith, cabinet maker, and rockstar Industrial Design student at Burg Geibichensten in Halle, Germany. His love of vintage motorcycles inspired him to create the souped-up sidekick, and your little easy rider will be glad it did.
His creation features a faux once-cylinder 125ccm engine, which will fuel your kids' imagination far beyond the driveway. Built-in headlights and taillights make bedtime road trips much safer. But, it's the Moto Rocker's little touches that really cement its existence as one of the coolest rideable toys around: the seat is made by hand from genuine leather. And an engraved frame bracket features your little biker's name (either birth, or adorable Hell's Angels alias) which adds even more personality to this hopalong hog.
It's available in different styles — cafe, brat, or racer — and color choices and measures just less than three feet long, barely a foot wide, and about two feet tall. The steel, leather, and bio-plastic construction are engineered to keep the bike light, with fully custom models weighing roughly 11 pounds. The Moto Rocker is designed to support just up to 110 pounds and is recommended for children aged 1 ½ to 4 years old. So, if you want to ride bitch, you're going to have to dust off those old Tae Bo tapes and lose some of that belly.
Good news, though: The Moto Rocker comes pre-assembled, which means you don't have to be a real mechanic to put it together. After a few screws and snaps, your kiddo will be rocking his or her way across the highways and byways of their imaginations. And with the Moto Rocker as their steely steed, they'll leave you in a cloud of dust before you can say, "Can I bum a ride?" The only downside? Price. $1,600? This thing is a pipe dream and a half. But what a dream.
Every product on Fatherly is independently selected by our editors, writers, and experts. If you click a link on our site and buy something, we may earn an affiliate commission.
This article was originally published on