This Chiminea Is $103 Off and Better Than a Fire Pit in Just About Every Way
The chimney on top of the chiminea is the answer to our biggest pet peeve about fire pits
by Sal Vaglica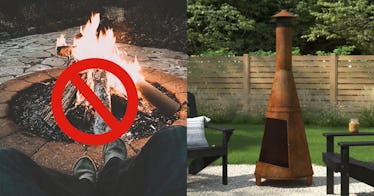 With all due respect to wood-burning fire pits, they require a lot. You usually need a good number of logs to get a decent fire going. Just before you start worrying about your kid falling in. Then, to get the full experience, you need five or so people sitting around it—and it only counts if they're in Adirondack chairs. Even then, someone is always sitting downwind of the smoke and complaining as they play musical chairs. In short, fire pits are for summer entertaining. But the sun's setting on that season and your house is likely less crowded as kids report to school. The key to enjoying a simple, fuss-free fire on cool fall nights is a chiminea.
While the screen helps keep body parts out of harm's way, this chiminea is made out of metal that will get hot. You can still roast a good s'more in it, but you'll likely have to be sitting to do it. While the closed firebox helps cut down on embers floating through the air, you should still keep it about 10 feet away from anything combustible or materials that might melt, like vinyl siding.
Every product on Fatherly is independently selected by our editors, writers, and experts. If you click a link on our site and buy something, we may earn an affiliate commission.
This article was originally published on