The Best Watches for Men Who Love the Outdoors
Heavy-duty but handsome, these watches are ready for any scenario.
by Ian Centrone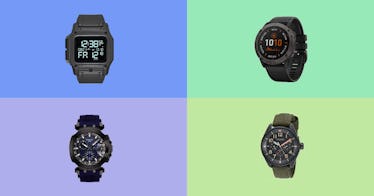 There are those among us who believe smartphones have made even the best watches for men semi-obsolete — nice accessories, sure, but no longer essential gear for being out in the woods or on the water. While that's true to an extent, there are some pretty solid reasons for strapping fitness-tracking and adventure-centric outdoor watches to your wrist. For starters, the best men's watches for a life outside also look great — whether you go big and rugged or sleek and stylish. And while some guys may decide to install an app to fight phone addition, it's even easier to leave the iPhone in the car and keep an eye on the time the (relatively) old-fashioned way.
Of course, there's no one-size-fits-all guide to picking the perfect timepiece, since the best watches for men come down to each man's use. However, all strike a balance between price and design, while also standing the test of time. Whether you work outside or spend weekends hiking, fishing, paddling, climbing, you want one that's durable, which a scratch- and shatter-resistant face, and water-resistant or waterproof case. Some outdoor watches come jam-packed with nifty features; others do a few functions well. All should handle the bumps and bruising that comes with weekends in the wilderness, just like you.
The Best Outdoor Watches for Men
Every product on Fatherly is independently selected by our editors, writers, and experts. If you click a link on our site and buy something, we may earn an affiliate commission.
This article was originally published on