Warby Parker Unveils Line of Hipster Eyeglasses for Kids
Now you and your child can wear the same cool specs.
by Dave Baldwin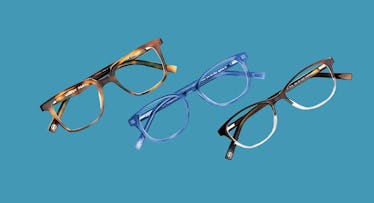 No kid wants to wear glasses. Ask any adult who sported a pair in elementary school. It's not fun. Warby Parker wants that to change. Starting today, the popular purveyor of hip, affordable eyeglasses for stylish adults is unveiling a line of hip eyeglasses for stylish kids, too.
RELATED: How To Tell if a Young Kid Needs Glasses
So as not to back out of a winning formula, the glasses in question are actually mini-me versions of the company's most favored adult frames ⏤ the Wilkie, Lyle, Louise, Percey, Chamberlain, and Daisy ⏤ in two sizes: the Jr. (ages 8+) and the Jr. Jr. (ages 4-7). The frames are made of the same hand-polished acetate and the lenses are still impact-resistant polycarbonate with a scratch-resistant coating ⏤ so they won't need to be replaced after the second day. Even better, the kids' versions get spring hinges. Both the Jr. and Double Jr. will cost the same as a pair of Warby's adult frames, $95.
Before you get too excited about your kid's imminent elevation to the cool crowd, though, there are a couple of (big) caveats. First, the kids' frames will only be available for three months as part of a test program that, if successful, may lead to a permanent collection. Second, you have to live within striking distance of New York City if you want to score a pair, as they'll only be sold in eight of the company's New York brick-and-mortar stores. Also, clearly understanding a child's propensity to break stuff, Warby's popular "Home-Try-On" program ⏤ which allows customers to test five frames out for a week ⏤ won't be available. They'll have to get fitted in store.
That said, for hip New York parents who want their kids to look as cool in vintage-inspired eyeglasses as they do, this is a pretty sweet opportunity. Hopefully, the program will be successful enough that parents across the country will soon be able to put their poorly sighted offspring in a new pair of trendy frames as well.
This article was originally published on