The Self-Driving ID Buzz Is A Futuristic Take On The Iconic Volkswagen Bus
Oh yea, and it's electric!
by Dave Baldwin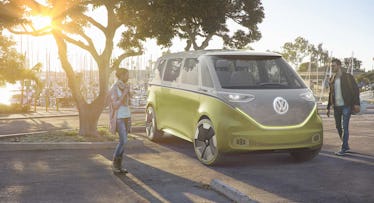 Volkswagen US
Few cars evoke a desire to pack up and hit the open road like the iconic Volkswagen Bus. If you didn't think your family would mutiny at the mere suggestion of taking an epic cross-country trip in one ("What, no TV screens in the headrest, Dad?"), you'd be scouring Craigslist right now. Hold off a few years, though, and Volkswagen may make it worth your while: They just unveiled a futuristic self-driving version of the classic microbus called the Volkswagen ID Buzz.
RELATED: The Best SUVs and Crossovers for Every Kind of Dad
Okay, so admittedly nobody's positive that the Volkswagen ID Buzz showcased at this year's Detroit Auto Show will actually come to fruition, but hey, dare to dream right? If it does, it's going to be a beauty: Entirely electric and all-wheel drive, with a single motor on each axle, 369 HP, and a 270-mile range. The 16-footer will hit 60 mph in 5 seconds, top out at 99 mph, and the Li-Ion battery (which is hidden under the floorboards) should take a little over a half hour to recharge.
Of course, it's the Volkswagen ID Buzz's interior that matters most when you're talking about a van for kids. In this case, there's room for eight and the seats move so you can customize the floor plan based on who wants to sit where. And no matter where they land, everybody will have a view of the stars under the full skylight roof. There are two luggage compartments for all your gear and a sweet single central touchscreen in the middle of the console for the driver to control all the action up front.
And speaking of driving, as noted, the Volkswagen ID Buzz will be fully autonomous. Like "Level 5 drive itself" autonomous. In fact, the steering wheel retracts into the dash and the seat swivels 180-degrees so the "driver" can join the game of Gas Out! in the back. A game so hilarious that the kids won't even notice there's still no DVD player in the headrest.
This article was originally published on