The Volvo XC60 Is a Midsize SUV That's All About the Details
Yeah, it looks great. But once you get past its looks, you'll see that the safety, performance, and family features are all accounted for.
by Michael Frank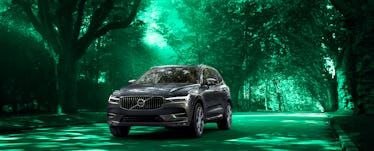 Volvo
The Volvo XC60 is one sleek vehicle. But once you get past the good style, you can see the safety, performance, and family-friendly features are in lockstep with its looks.
Consider the doors. When you're stepping out of the Volvo XC60 you'll naturally pull a lever to release the door latch. Note that that lever is sculptural, curved perfectly to let two fingers catch it and pull it easily toward you. It's also chunky, clearly made of actual metal, not a micro-thin veneer of something that's somehow plasticized aluminum. There's also a sturdy, rocklike heft to the shape. In other words? The argument for the XC60 is in the details.
The same goes for what you'll grip, turn, and actuate elsewhere: The vent knobs are round, finger-thick hunks affixed to propeller-like metallic fins fixed at 12 o'clock, with two vents each, for the front passengers. The starter control switch nests in the center console and is itself cut from metal, with knurls scalloped into the housing, which is cut into the shape of a square, but with softly tapered shoulders. Whoever works on interiors at Volvo loves to collect chef's knives, or perhaps, lathes, because the fit of every single surface in your hand is perfectly balanced. Trust us when we suggest letting your hands linger on these surfaces, because these are what set Volvo's winning interior design apart. And trust us, too, when we tell you that absolutely no carmaker is making better seats today. They're phenomenal.
All of these surface niceties are not, by the way, at the expense of Volvo's primary mandate, which is to be highly pragmatic. The XC60's rear seats are, like the fronts, covered in faux leather surfacing that's easy to clean and, like the fronts, supremely comfortable — and there's knee room aplenty, even for adults. It comes standard with a panoramic glass roof, too, and while cargo capacity is midpack for this group, it bests its key luxury rival here, the Audi Q5.
Speaking of which, we're tempted by the $54,000 T8 eAWD Plug-in Hybrid, because it offers 19 miles of EV-only range and combined 27 MPG. Plus, it's faster than the gas-only base model, the more affordable T5. Sorry, we know the nomenclature gets confusing. Just be aware that the T8 is the hybrid, and combines a supercharged and turbocharged four-cylinder with an electric motor and cranks out a combined 400hp. It'll go from 0–60mph in just about five seconds, so it's plenty quick.
We should mention that a standout among the XC60's niceties (which include Android Auto/Apple Carplay) is the 12.3-inch touchscreen, which is oriented vertically. That leaves room in the display for both your phone's apps and the car's own controls. There's also native integration (via a 4G LTE Wi-Fi hotspot) of some of what you might want from your phone, like Google Local Search, Yelp search, and Pandora.
MSRP: $40,150Our Pick: $54,000 T8 eAWD Plug-in HybridMPG: 22/29Capacity: five passengersMax Cargo Space: 63.3 cubic feet
The XC60 comes with most of our preferred suite of safety features, though you have to spend $2,500 more for advanced cruise control, which is smart enough to sense — and maintain a safe distance from — vehicles in front of you. Given the cost of the XC60 and Volvo's safety focus, we'd like to wrap their knuckles for that. However, we will grant that accidents are more common in urban driving, and standard features they do include go above and beyond some other vehicles, such as technology that prevents accidentally steering into the path of a passing car and that helps you steer more quickly to swerve out of the path of a car careening into you. They also use lane-keeping that reads the road surface (not just the painted lines) to prevent you from overrunning the shoulder. Pedestrian, bicycle, and large animal detection are all standard, too.
At the end of the day, this is a car that combines a lot of style, a lot of substance, and a lot of what families need into one very sleek package.
This article was originally published on