The Volkswagen California XXL Is the Camper Van of The Future
Panoramic roof. Retractable bathroom. Section for the kids. And did we mention the whole vehicle is app-controlled?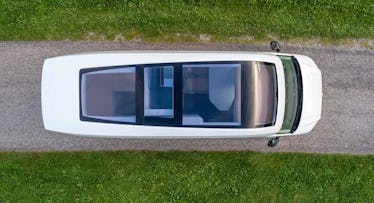 Volkswagen's van designers are on a roll. First, they brought us the I.D. Buzz Concept in January. Then they announced that it's actually going to be produced. Now, there's the Volkswagen California XXL Concept. It's somewhere between a camper van and a full-on RV, and any way you slice it, it's the sweet, souped-up future of motorhomes.
RELATED: The Best Cars To Lease For Under $200 A Month Right Now
The photos really tell the story here but for starters, the Volkswagen California XXL features a bed that's both heated and cooled, not to mention large enough for two adults to stretch out on. Up top, there's a panoramic roof so they can see the stars while they doze. And for the kids, they get their own separate section over the front of the vehicle. That space also offers panoramic views, by the way, so they won't feel compelled to pile into mom and dad's bed every night.
Most vans aren't so great when it comes to standing room, but there's more than 7-feet, 2-inches of clearance inside the Volkswagen California XXL, which means all but the three tallest current NBA players would be able to stand up inside.
There's a kitchen, of course, and it's as feature-packed as the rest of the design. It boasts a twin gas range that pops up and retracts at the touch of a button. The coolest part of the cooker, however, might just be its location… above and below the van's two refrigerators.
Impressively, almost all of the Volkswagen California XXL's bathroom is retractable. Swivel the illuminated mirror above the toilet, and there's a fold-away sink. The faucet doubles as a shower head, and the floor even slides out when you expand the bathroom by pulling on the wall.
Fold the bathroom away, and it yields to a fully usable living room. Both front seats rotate to face the passenger area, and a rear bench seat is affixed to the bathroom wall. Above that seat? An espresso machine. Naturally.
The whole Volkswagen California XXL is run via a smartphone app. A tablet controls everything from the van's various lighting settings to more serious functions like closing the skylight window in the bathroom.
It's even fully setup for winter camping, with both all-wheel drive capabilities and, for those that literally get cold feet when thinking about shelling out for what would undoubtedly not be a cheap vehicle, gas heated floors.
So far, there are no plans for production, but then again, that's what everyone thought about the I.D. Buzz.
This article was originally published on