The Victury Soccer Ball Can Be Kicked Full-Force Indoors Without Breaking a Window
It weighs less than an ounce but is engineered to move like a real soccer ball.
by Dave Baldwin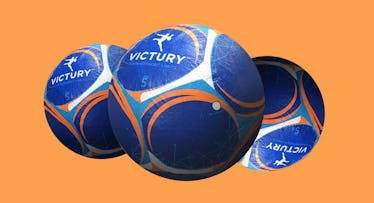 No playing ball in the house. It's a rule parents strive to enforce, and kids love to break ⏤ along with the lamp, and the picture frame, and that coffee mug that was sitting on the kitchen table. But short of banishing all balls to the garage, it's not always easy to keep young athletes from kicking, throwing, or bouncing them around the house ⏤ especially when they want to practice on a rainy day. With the Victury Ultimate Indoor Training Ball ⏤ a soft-shell regulation-size five soccer ball designed to be kicked full force indoors without breaking any windows ⏤ there's no need to even try.
The brainchild of an acclaimed high-school soccer coach from Wisconsin, the Victury ball is all about getting real training touches in a confined indoor space. The two-piece hand-sewn ball is made out of a paper-light kite material and weighs less than one ounce (17 grams) ⏤ compared to 16 ounces for a traditional ball. So it almost feels like kicking a thick paper balloon or beach ball, but it doesn't behave as such. Thanks to a patented re-inflatable KrunchKor bladder that absorbs impact without losing its shape, the ball is "engineered to move and feel like a real soccer ball, so juggling, kicks, and kill shots can be done full-speed indoors." In fact, it can withstand up to 100 pounds of pressure without popping and can be absolutely crushed against the wall with no damage to either it or the sheetrock.
The Victury ball is waterproof, easily deflates for travel, and comes with an online video training system that helps young players master 30 skills while learning proper form and technique. The only thing it isn't is available yet. It debuted at this year's Toy Fair but won't hit stores until July. When it does, it will cost $20.