10 Vasectomy Party Gifts For Anyone Going in for the Big Snip
The gifts to get anyone going in for the big snip.
by Ian Centrone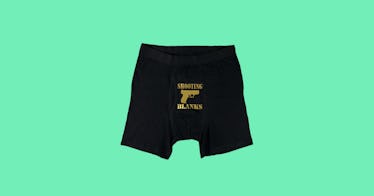 Fatherhood comes with it's fair share of celebrations. Sure, you've got your traditional baby shower. But nowadays there's also an over-the-top gender reveal party (don't forget to film the big announcement for social media) and maybe even a babymoon vacation (if you're looking for one last romantic retreat before the little one arrives). However, the newest trend actually celebrates not having any more children at all, and it's known as the vasectomy party.
That's right, the vasectomy party: a festive get-together for men who have decided to sever ties with their sperm. It just may be the strangest of the bunch, but these shindigs are taking off in a big way. So, if you want to get something for a friend — or inspire friends and family before your big surgery — we've gathered some gear and gag gifts to celebrate "the big snip" in style.
"100 Percent Juice, No Seeds" Balloons
What's a party without balloons? The folks over at Cafe Press were quick to get ahead of this trend. Their site offers an impressive collection of comical balloons that are sure to set the stage for any vasectomy party. Pick up a bunch of these 18-inch Mylar balloons that feature a funny reminder for anyone about to get snipped.
"May Your Surgeon Have Steady Hands" Card
Put your pen to paper and jot down a few words of encouragement for your pal before the big procedure. Etsy is stocked with plenty of creative vasectomy cards, ranging from get well soon and good luck wishes to slightly more sarcastic sentiments. This tongue-in-cheek option from Stone Donut Shop, which expresses some words of encouragement before the big day, is simple but effective.
Snowballs Underwear
Supportive underwear is key to a speedy vasectomy recovery, and you better believe that boxers aren't going to cut it. These certified organic, cooling boxer-briefs from Snowballs will. Each set includes two pairs and three SnowWedge ice pack inserts. Guys who need to rest can toss the inserts into the freezer and then slip them into the frontal pouch to cool off the boys and reduce swelling. Way better than using a sack of frozen peas.
Shooting Blanks Boxer-Briefs
Anyone with a solid sense of humor is sure to get a laugh out of these boxer-briefs. The made-to-order underwear comes emblazoned with a pistol decal and "Shooting Blanks" inscribed across the front. Just choose a design color, select a size, and you'll be ready to go.
Swim Team Sweatshirt
A true sentiment anyone with a vasectomy can appreciate: Just because the swim team's been cut doesn't mean the coach has to retire. The classic crewneck comes in black and blue (no pun intended) but is also available in additional styles, such as a hoodie, tank top, and tee.
Club Vasectomy Embroidered Patch
Guys who have undergone the knife say that getting a vasectomy is like joining a secret club. Why not make it official with an embroidered patch from this Los Angeles based Etsy shop? With a nostalgic 90's vibe, this badge of honor can easily be stitched onto a jacket, baseball cap, or any bag.
Vas Deferens Tote Bag
Want to make your buddy feel uncomfortable? Consider this tote bag, which features a medical drawing of the vas deferens along with the phrase "A Vas Deferens in My Life". You know, because the vas deferens is the tube that carries sperm from the epididymis to the ejaculatory duct. Get it?
Crochet Sperm Pillow
Crocheted from acrylic yarn, this oversize sperm pillow features a moldable tail and measures 42 inches long. The shock value alone is bound to make this little guy the mascot for any vasectomy party. But your pal can even use it as leg support during the recovery period spent lounging on the couch.
Vintage Vasectomy Flask
Leading up to the big day, your friend might need to drink a little bit of liquid courage. Why not stick to the theme and surprise him with this wonderfully weird Death By Irony flask? Made of premium stainless steel, each flask is hand-collaged using pages from vintage medical books (including a detailed illustration of the male anatomy), then sealed with a protective polyurethane coating.
Vasectomy-Themed Sugar Cookies
Skip the chips and dip and opt for a sweeter, more festive spread. These vasectomy-themed sugar cookies from ifrostcookies are sure to be a hit. Each handmade batch features a colorful assortment of eggplant emojis, "no sperm" signage, and snipping scissors. They're sold by the dozen and can even be customized with a personalized message.
This article was originally published on