10 Valentine's Day Gifts That Make You The World's Most Thoughtful Guy
No heart-shaped boxes allowed.
by Dave Baldwin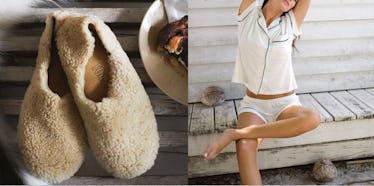 Even if you're in possession of a signed affidavit that reads: "We are not exchanging Valentine's Day gifts this year," you still have to get your partner a Valentine's Day gift. Sorry, but no lawyer in the country can argue against that one. And at $500 an hour, they'd also advise that flowers and a card don't count. Here are the best Valentine's Day gifts that show how much you care about your partner, and not just about a Hallmark holiday in February.
Glerups Wool Slippers with Leather Sole
Cold winter mornings or warm evenings in the house, Glerups' boiled wool slippers are comfortable in all temperatures. Their non-marking leather soles are quiet in the mornings before your kids wake, and they're machine-washable for spills and smells alike. They're also rugged enough to handle an early morning sprint to catch the garbagemen when you've forgotten to take it to the curb the night before.
Maison Louis Marie Candle
No ordinary ho-hum jar of melting wax, this fancy candle from MLM is described like a bottle of fine wine would be. Seriously, read it: "The fruity fragrance begins with a black pepper note enhanced by bergamot & cassis … dries down to a warm oakmoss, tonka and clean musk base." Huh … like the toy trucks? And you thought it was just a burning flame that would help you get laid on Valentine's Day.
Beef Jerky Flowers
For that special someone who prefers beer and beef to blooms and blossoms, these tasty bouquets of roses (and daisies) are made in the heartland from a half pound of 100 percent beef jerky. They come in three flavors (original, teriyaki, or peppered) and in one of the only 2 types of "vases" you had in your apartment before you got married — a pint glass or beer mug.
Woman's Long Westerley Cardigan Sweater by Pendleton
Granted, The Big Lebowski made the Original Westerley a menswear classic. But its thick-woven wool and relaxed fit make this a perfect Saturday sweater, regardless of gender. A longer length blocks out drafts while an updated fit makes this more her speed. It's a classic for a reason.
Everlane 100% Human Sweatshirt
No matter how stylish the design, a shirt that reads "100% Human" could be misinterpreted. As in, "I understand, honey, you're only human." But that's not the point of this classic brushed fleece crew sweatshirt targeted toward the socially conscious set; it's designed to support human rights and remind us all that we're "more the same than we are different." Even if some of us are better at getting the kids up and out the door than others. On second thought, maybe you should just etch the word "Super" before "human" with a Sharpie before you wrap it.
Herschel Novel Duffle
You just booked a romantic weekend away, no kids allowed. Now go the extra mile and surprise her by packing this cloud pink Novel Duffle from Herschel and have it waiting by the door. It features an internal mesh storage pocket (for the nice underwear), signature shoe compartment (for the sexy shoes), and leather handles (for you to carry it around).
Eberjey Gisele Short PJ Set
Thus PJ set just happens to be named Gisele — which means there's a chance you'll be reminding your wife she is much sexier than Tom Brady's spouse. The shorts are appropriately skimpy, and the notched-collar shirt with chest pocket pretty much says, let's get down to business. And if she wants to call you the greatest quarterback of all time this Valentine's Day, you won't complain.
Lavender Himalayan Coarse Bath Salts
Twenty minutes of peace and quiet. No screaming babies. No kids knocking on the bathroom door. Just a glass of wine and a hot tub filled with aromatic bath salts that claim to do everything from "prevent muscle soreness and regulate sleep" to "improve the texture, tone, and appearance of her skin." Just don't ruin it by doing something stupid like using the toilet next to her.
The Olmstead With Ferns
The problem with flowers is that they always die. Plants, on the other hand, only sometimes die. And that's usually because you forgot to water them while you were on vacation. Or just sitting around at home. These easy-to-care-for ferns from The Sill (your choice of Platycerium Lemoine, Asplenium Nidus, or Australian Crocodile) require little light and even less water, so even the brownest of thumbs should have trouble doing them in this Valentine's Day.
The Mothers: A Novel
Perhaps best combined with the bath salts, The Mothers is a powerful New York Times best-seller from first-time novelist Brit Bennett about a young woman's experience with her mom's suicide, an unplanned pregnancy, and other difficult life events. It's all deep stuff, but it's getting rave reviews and will no doubt capture the attention of any bookworm mom eager to read more than a few Internet articles on her phone during nap time.
Need more ideas? See the Best Valentine's Day Gifts Of 2016
This article was originally published on