Male Fashion Advice For Dads Who Are Too Busy Parenting To Worry About Clothes
Put this in your cargo shorts pocket.
by Aaron Stern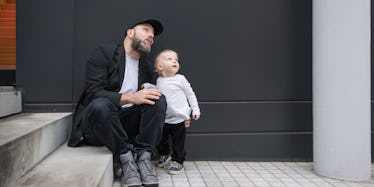 It's understood that you have more important things to do than worry if your dad jeans are skinny enough or your glasses are wide enough. Your kid doesn't care (until you're dropping them off at school). Your wife cares, but — too late, she married you. No, you may have written off dressing well for the sake of others as a young man's game, but it's possible that updating your wardrobe with cheap clothes for men can make you feel bit better as a father, husband, and person who other people look at. You just need some male fashion advice.
RELATED: Dads: How To Dress Like An Adult And Save Your Time And Money For Your Kid
Jeff Carvalho runs HighSnobiety, a site that both reports on and curates the latest men's fashion trends for the masses, and is father to one well-dressed 1-year-old. "It's not difficult today to dress well," says Carvalho. "It's not cost-prohibitive to dress well, either. You don't need much to look good. It all comes down to basics — well-fitted basics." That is to say, if you thought that you're doing pretty well by avoiding the fanny-packed misadventures of your own dad, you could be doing better. So quit whining and get into the changing room.
"You don't need much to look good. It all comes down to basics — well-fitted basics"
Know Your Sizes To Get Men's Clothes That Fit
Here's a quick way to know if your clothes fit — pull out a picture of you in 8th grade wearing a pair of Z Cavariccis. Don't do that. But more specifically, you can take most of the items in your closet and tweak them (or, tailor, as they call it in the biz) to hang off you better. "Every dad I know is way too busy to be following what the next style is, so it's much better to take the classics that are in your wardrobe and make sure that they just fit to you and look great," says Carvalho.
Tailor your closet. Take big-ticket items like suits and jackets to a respected tailor. For simple stuff — like hemming an old pair of jeans — Carvalho says the local dry cleaner will suffice.
Know your off-the-rack size. For pants, shirts, and jackets. It will vary by brand, so if it's your first time shopping in a store, try it on to be safe.
Close only counts in horseshoes and clothes shopping. If you wear a rare size (like Carvahlo, who wears 32 x 29 pants), buy the closest fit (like 32 x 30 pants) and take them up an inch.
Stock up on brands that fit. "When you hit on a basic that is yours — when you put it on and your partner tells you it looks great — buy 4 of them," he says.
Reject labels. Dockers is not the curse word you think it is. Carvalho freely admits he owns a couple of pairs.
Where To Splurge And Where To Save On Men's Clothes
The next-fastest way to go from fashionable non-parent to cargo-pants-dad is to stop refreshing your wardrobe. But clothes, like everything else in your life, costs money. It's important to know what to save on and what to splurge on to keep things fresh. Carvalho says you should drop a dime on these 3 things:
Good denim. Good jeans will set you back at least $100, but will look and feel good and will last for years.
Dress shoes. Dress shoes are another item you should invest in. They should last you 5 to 10 years, and because you're walking around in them all day, buy a pair that's comfortable and classy.
Watches. If you decide you're not splurging on any of these things, a great watch will save your look any time. "I remember this one time I went to a casino and I looked like complete crap but I had on a decent watch — and that's all they care about," says Carvalho.
And these three things you can save your money:
Sneakers. Unless collecting is your thing, a pair of Yeezy's isn't going to get nods at the office. Plus, how many times do you see a celebrity wearing Chuck Taylor's on the red carpet? (The answer is many times.)
Oxford shirts. They're white. They have a collar. You wear them almost every day. No need to be precious about it.
Sports jackets. "It's easy to buy an off-fitting jacket on sale and then get it tailored to look perfect on you," he says.
A Note On Men's T-Shirts
T-shirts are weird — and not in a Co-Ed Naked or Big Johnson kind of way. They're items that you can save money on, but it's also the core of your casual wardrobe. Carvalho says, buy good t-shirts (like ones made from Supima cotton) and don't over-launder them to the point where they pill or lose their structure. Still not sure when to replace a t-shirt? Yellow pit-stains should be your red line.
Suggested Men's Clothing Brands To Get You Started
This article was originally published on