The UNO II Backpack Zips Open To Become A Changing Pad
With a changing pad, to boot.
by Dave Baldwin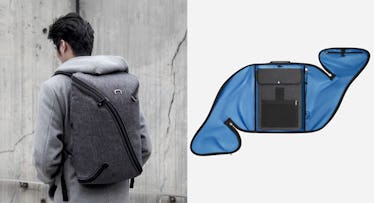 In an era when dads are more involved in parenting than ever, it's no surprise there's been a boom in the sale of diaper bags dudes aren't embarrassed to carry. The slim UNO II Interchangeable Backpack wasn't designed with bottles and butt cream in mind, but it may as well have been.
RELATED: The Best Backpacks For School & Kids Book Bags
What makes the UNO II Interchangeable Backpack so distinct is that it's crafted from a single piece of water-repellent fabric and has only one zipper. So you can literally zip in and out. In fact, when completely open, the backpack lies flat on the table, enabling you to not only access all the diapers and goldfish crackers but also to use it as a changing pad. (Again, guessing they didn't envision this, but it's perfect.)
In terms of features, the UNO II Interchangeable Backpack has some handy ones. First, there are interchangeable internal panels to customize what you're carrying. It comes with a standard work pocket (for laptops, pens, etc.), but you can also buy one of three themed options designed for cameras, sports, or art. No baby model yet, but that art/sport bag may prove useful when you start shuttling them to soccer practice or painting class. There's also an easy-to-access shoulder strap pocket for your phone/valuables, a hidden mesh bottle pouch, pop-out rain shield, built-in power dock, and even an anti-theft zipper lock to keep even the wiliest of playground thieves from stealing your baby's night diapers. (That happens, right?)
The UNO II backpack is available in three colors (charcoal, gray, and pink), 2 sizes (30L and 20L), and sports a luggage strap so you can slide it on your roller bag when flying to grandma's house. Also, since space in your home is limited these days with all that new baby gear, UNO stores either rolled up or flat.
Finally, as they've already cleared their Kickstater stretch goal ⏤ they asked for $15k and got $120k so far ⏤ you'll get a free toiletry bag at no extra cost … which you can promptly fill with diaper cream.
This article was originally published on