The Gladius Is An Underwater Drone For Wannabe Cousteaus
Shoot your own version of 'Blue Planet' with this remote-controlled underwater drone.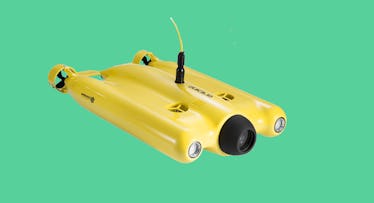 When you think of a drone, you probably picture a quadcopter hovering overhead, capturing sweeping aerial views or weddings of those friends who have to have a drone footage. But while consumer drones have certainly conquered air, there are also a number that take to the sea to let you capture footage — and explore — everything from blooms of jellyfish to jagged underwater cliffs.
One such drone, the Gladius Advanced Pro, can capture 12 megapixel still images and 4K video. More or less a smaller version of Jacques Cousteau's mini-submarines, it has dual dimmable LED lights that let you capture footage even as you pilot your drone deeper into the water and an image stabilization algorithm that helps ensure your well-lit footage is smooth.
The first step to using the Gladius is selecting either a freshwater or seawater buoyancy module that easily snaps onto the body of the drone, which resembles a flat yellow submarine. After that, you just attach a cable to the drone and throw it in the water.
The included remote control resembles a video game controller. It has a space to mount an iOS or Android device for real-time video, which you can live stream online or save to 64 GB of internal storage. You can shoot for about three hours off of one battery charge and send your Advanced Pro up to 330 feet below the surface.
Now, before you start having dreams of Blue Planet bouncing through your head, the Gladius is an investment. It costs $1,800, which puts it out of the hobbyist territory. Still, it's cool that this kind of tech is becoming more widely available. And if you want to explore the briny deep on your own, there are more ways to go about it.
Every product on Fatherly is independently selected by our editors, writers, and experts. If you click a link on our site and buy something, we may earn an affiliate commission.