Unboxing and Playing 3Doodler 3D Pen
On this episode of Fatherly's "Toy Review," our editor-at-large, Joshua David Stein, unboxes and reviews the 3Doodler 3D-Printing pens. He looks at two models of the 3Doodler — the 3Doodler Create, which is for 16-year-olds and up, and the 3Doodler Start, which is for 8-year-olds and up. ADVERTISEMENT In the beginning of the episode, Joshua... View Article
by Fatherly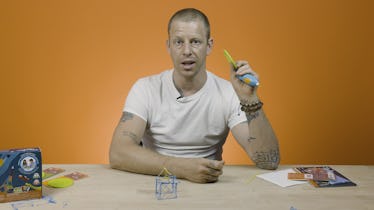 On this episode of Fatherly's "Toy Review," our editor-at-large, Joshua David Stein, unboxes and reviews the 3Doodler 3D-Printing pens. He looks at two models of the 3Doodler — the 3Doodler Create, which is for 16-year-olds and up, and the 3Doodler Start, which is for 8-year-olds and up.
In the beginning of the episode, Joshua reveals that he actually purchased the 3Doodler Create for his kids last Christmas, and he found it was kind of hard for his kids to use. They were 4 and 7, so obviously it was a little too advanced for them. Joshua also found that as a parent, you end up just getting little bits of melted plastic all around your house, which was pretty annoying.
Joshua first reviews the 3Doodler Start, the kid-friendly model. It uses little tubes of plastic that are non-BPA and non-toxic. Joshua tries to draw a house, but his first doodle turns out to be an abstract styled piece, so he moves on and uses the molds that came with the set. Stein also says that unlike the regular hot-glue gun, the 3Doodler Start doesn't burn, a very good feature for kids.
Next, Joshua tries the 3Doodler Create, the model that allows you to print in mid-air. It also uses a different type of plastic called ABS, which stands up more. And unlike the 3Doodler Start, the 3Doodler Create does get hot.
Although the 3Doodler Create is harder to manipulate, Joshua successfully draws another 3-D house.