Make It Easier for Kids to Get Into Music With This Loog Ukulele
It's right-sized for smaller players, but it also has an app to teach them.
by Sal Vaglica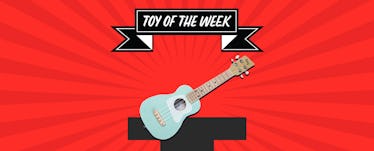 Having your kid watch you play an instrument—even rather poorly—is a good way to get them into music. Musical instruments for kids are an entire genre of toys, and most of them are simple. Yes, when the banging on the toy piano starts there will be regret, but it helps kids develop. They'll learn to use their hands and also work on the social-emotional skills that come with playing in a group. Before your kid can shred on a guitar, have them start on a soprano size ukulele. It's smaller, obviously, but with only four strings it's easier to play for tiny hands and the nylon is far more forgiving than steel guitar strings.
The Loog guitar comes in six colors and is packaged with flashcards that help explain cords. But what sets it uke apart is the app, which has a lot of features legit guitar teaching tools have. There's the practical: like a tuner that uses the phone's mic to listen to the strings, then teaches your kid how to dial in the instrument. There's also a section with video tutorials that walks them through everything from how to hold it to what the frets are. To keep it fun there is a game section that offers dueling guitars. There's even a built-in, adjustable drum machine to help keep time. Fun, colorful animations of a furry, happy monster-avatar in a living room are geared for kids to navigate on their own.
Every product on Fatherly is independently selected by our editors, writers, and experts. If you click a link on our site and buy something, we may earn an affiliate commission.