Tynker's Drone Kits Teach Your Kids Computer Programming Skills
They barely even know they're learning science.
by Dave Baldwin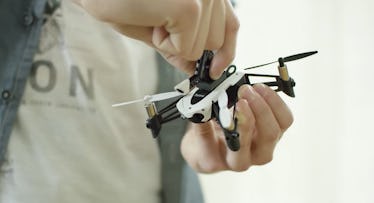 Considering the highlight of your computer programming career was getting a Commodore 64 to infinitely scroll "I Am Cool" down the screen when you were 12, it's probably safe to assume you won't be teaching your kids advanced Python any time soon. But if you still want them to get a STEM up on the other kids by learning how to code, specifically by programming a drone to not crash into the living room wall, check out Tynker's "Code This Drone" Kits.
RELATED: How To Get Your Kids Excited About Engineering, From Guys That Fight Robots
Essentially a collab between coding-education specialists Tynker and popular drone maker Parrot, the Code This Drone kits come with either an Airborne Cargo or Mambo mini-drone, an interactive drone-coding course, and a slew of fun-to-play games and activities aimed at teaching kids computer science skills. All you have to do is download the app and pair your tablet and drone via Bluetooth.
From there, your kids can learn the "fundamentals of programming (including sequencing, loops, conditionals!)" by using a series of 18 puzzles to fly a virtual drone on their tablet. In the process, they learn how to control the actual drone that's soon to be buzzing around your head with drag-and-drop commands like "Take off," "Turn right by 180 degrees," and "Fly forward for 2 seconds." They can also create a "Flappy Drone" video game and turn their tablet or phone into a remote control that incorporates the device's accelerometer. Simply tilt to steer.
As your kids become more advanced coders and/or start hacking government computers, you'll appreciate that the kits also include an additional nine programming courses, four Minecraft modding courses ('cause it's all the rage these days), and even "an annual subscription to Tynker's full repertoire of "self-paced online courses for children to learn coding at home." The only catch, they're not available just yet — so best not to start filling out that MIT application. Instead, why not dig that Commodore 64 out of your parent's basement and show them how cool coding — and you — use to be!