This Garment Bag For Your Bike Keeps You From Looking Like A Wrinkled Mess
Now you just need to find a place to shower.
by Dave Baldwin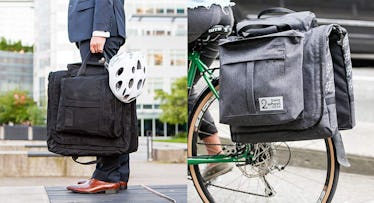 Now that the Scandinavian Side Bike has breathed fresh life into your dream of cycling to work with the kids, it's time to figure out how to not look and smell like the guy in the office who just, well, cycled to work. One way is to wear wrinkle-free clothes, which you can do thanks to Two Wheel Gear's redesigned garment pannier.
RELATED: Dads: How To Dress Like An Adult And Save Your Time And Money For Your Kid
The Executive 2.0 is a limited-edition, saddle-meets-garment bag for bike commuters. It fits on the back of any 2-wheeler and keeps your work shirts looking as fresh and wrinkle-free as the day your kids didn't play hide-and-seek in your closet. It's made of water-repellent waxed canvas and holds 3-5 garments on hangers. Elsewhere, there are 10 total pockets, including a 17-inch padded laptop compartment. Thanks to a universal mount, the suit bag easily secures to any standard bike; and since it's only 18-inches by 19-inches folded, the E2.0 also fits in the overhead bin and doubles as a carry-on for those work trips off the beaten bike path. A shoulder strap, reflective material and dual utility loops round out the package.
The 2.0 is available in waxed canvas. But in case you don't like wax anywhere else but your mustache, you can snag it in black or graphite 210 HD nylon for about $90 less. All 3 models come with a yellow rain cover to help keep your clothes as dry as they are wrinkle-free.
This article was originally published on