TubeLox Are the Giant Building Toys Your Kids Deserve
Unlike their smaller competitors, TubeLox are made to be ridden, sat on, and otherwise used practically by kids after they construct them.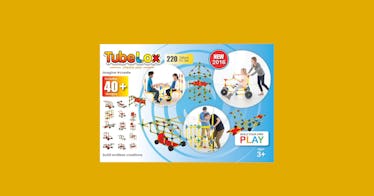 K'Nex, Lincoln Logs, Legos, and Tinker Toys have different designs and connection mechanisms, but they, along with pretty much every other building toy, share a common, miniaturized scale. Kids use them not to make usable things but to make models of things, be they sports cars or log cabins, models that they can use their hands to play with but not their bodies but not play in or play on. TubeLox is a rare exception, a building toy that sets itself apart by giving kids the chance to create on a life-size scale.
Tubelox are a collection of large plastic pipes, connectors, and various other components such as wheel. They only come in two different kits — standard and deluxe. Each comes with a variety of suggested designs, from benches to a pyramid to a helicopter. The eponymous tubes are held together by connectors that resemble those you would use for PVC pipes: elbows, T-shapes, crosses and the like. Included clips help strengthen the structure, securing the pipes into the connectors at their joints. Children up to 75 pounds can sit on and ride in their creations, lending an aspect of interactivity that is missing from those smaller building toys.
Panels let kids them add flat surfaces to their structures, creating walls and tabletops, for instance. And wheels allow kids to make vehicles they can actually ride in, like a forklift, or easily tote around, like a wheelbarrow.
The makers of TubeLox promise all of the benefits of other building toys will carry over to their invention, which has been featured on Shark Tank and another ABC show, Toy Fair. Their STEM applications are obvious, as is the potential for kids to think creatively, play socially (something more easily done with the larger pieces) and improve their problem-solving ability.
The standard set comes with 120 pieces while the deluxe includes 220. Replacement parts are also available from the company. If you have energetic kids who love to construct, they'll love the versatility and interactivity of the TubeLox system.
This article was originally published on