Tube Superstar Unboxing & Review
Tube Superstar by Zuru is a vlogging toy that lets your kid create cool content and edit live as they go. Tube Superstar includes everything you need to be a vlogger, including a microphone to capture audio, a stand for hands-free recording, a selfie stick for flexibility, and an exclusive app featuring over 50 filters,... View Article
by Fatherly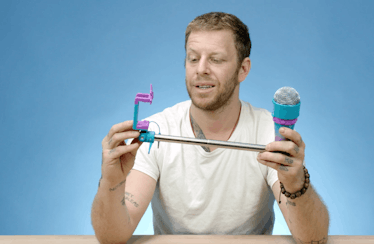 Tube Superstar by Zuru is a vlogging toy that lets your kid create cool content and edit live as they go. Tube Superstar includes everything you need to be a vlogger, including a microphone to capture audio, a stand for hands-free recording, a selfie stick for flexibility, and an exclusive app featuring over 50 filters, animations and editing effects.
If you've ever taken a selfie or used a microphone, you will find both worlds merged with this video creation device. By plugging the Tube Superstar into a smartphone and downloading the app, your kids can make their very own vlogging style videos. The videos they create will save directly to the Tube Superstar app.
The filters, stickers, editing effects, and animations are triggered by a QR code that is displayed on the microphone. When your child is recording, he or she can move the bezel on the microphone to display different QR codes, which are replaced with the Tube Superstar logo in the video. As they turn the bezel, they will see the options for many different filters, effects, and stickers such as star shades, a laser show, and a disco ball. Other stickers include a science lab, a vanity light effect, and eggs being splattered on the screen. They can also create editing effects that are displayed after recording their video. Examples of these are slow motion, fast motion, and a blur effect.
After making their video, your child can share on social media or with family members.
This article was originally published on