The Best Kids Room Decor That Your Kids Will Actually Like
Bunk beds are all the rage, and some of these spaces even have a place for adventurous grown-ups.
by Erin Carlyle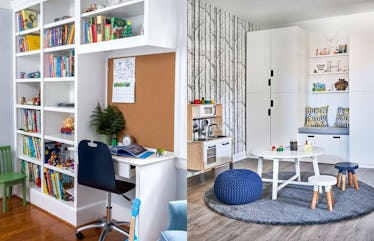 Kids' rooms can be among the most delightful spaces — after all, their designs often reflect the fun aspects of being a child. This spirit holds true for the most popular kids' room photos uploaded to Houzz from July through September, as measured by the number of people who saved them to their ideabooks in that period. Here they are in reverse order.
RELATED: Dad Turned His Daugther's Bedroom Into Her Very Own Disney World
Take a look at the merry, child-friendly elements present in the readers' favorite new kid spaces, counting down from No. 6 to the most popular. Which room would you most like to have in your house?
Best Kids Room Decor: Study Time
This attractive zone in a children's bedroom in Chapel Hill, North Carolina, makes reading and studying look inviting.
The built-in shelves corral books and a colorful assortment of toys. And a desk with a corkboard creates a place for the younger members of the household to form good habits.
Best Kids Room Decor: Plaids and Stripes, Please
This cabin in the Minnesota woods features a cheery kids' room in a classically preppy palette. Instead of ladders, the upper bunks have their own sets of entry stairs, as well as a railing to keep young ones safe. The lower left bed jutting into the room forms a pleasant departure from the symmetry that characterizes the rest of the room. Plus, it's roomy enough for grown-ups to sleep in.
Best Kids Room Decor: Horse Happy
This lovely room has simple foundational elements that can grow up with a child — especially when that child has a passion for horses.
Note the majority of the elements in the room — shiplap, chandelier, built-ins and wood floors — evoke grown-up farmhouse touches, and the room could be restyled quite simply by changing out the bedding and rug.
Best Kids Room Decor: In The Forest
This darling play area in a Toronto basement features a round rug, which makes the little table feel extra special. Wallpaper with a tree motif brings the space an enchanted feeling.
Best Kids Room Decor: Organizing Skills on Display
A pretty, muted green-blue wall paint brings some gentle gravitas to this child's room in London. Tidy bookshelves and a well-organized closet may be aspirational for many of us, but it's nice to think that kids' room chaos can be corralled and look as peaceful as this space.
Best Kids Room Decor: Gray and White and Ready to Decorate
This was the most popular new kids' room photo uploaded onto Houzz through summer this year. With its soothing gray and white palette and up-to-the-top-bunk stairs that double as storage drawers, there's plenty of room to personalize with art, books and toys. Similar to No. 5, this kids room features one larger bed jutting out into the room where the grown-ups — or maybe just the big kids — might like to sleep.