The 5 Best Smart Grills And Smokers That Don't Need Babying
They're brainy enough to keep things going low and slow on their own.
by Jeff Foss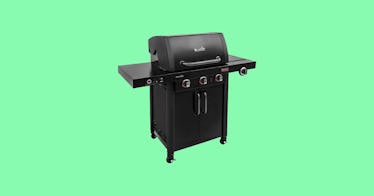 Your old man spent his summers worriedly hunched over the uneven flames of a primitive charcoal grill or smoker. Sure, he could cook burgers with the best of them, but anything not destined for a stale bun required Jedi-like skill and patience. Today, thanks to the "Internet of Things" revolution sweeping up household appliances left and right, grilling that perfect cut of meat is easier than ever. The newest generation of smart grills are true Wi-Fi wonders, and they can eliminate many of the variables that often lead to undercooked chicken breasts, overcooked steaks and everything in between.
RELATED: The Best Gas Grills & Grill Accessories You Need To Cook Every Meal In The Backyard
The key to barbecue is consistency, and that's precisely where smart grills excel. In addition to sophisticated burners and self-monitoring systems that regulate heat to within one degree, they typically come with tools to monitor your meat mid-sizzle, and they can even notify your phone when it's time to flip. Running late? Fire up your smart grill right from your phone on the way back from the grocery store so it's ready to go when you pull into the driveway. In short, a smart grill takes a lot of the stress and guesswork out of grilling, so you'll have more time to kick back, sip beers, and chase your kids around the backyard with high-powered water guns. Here are the best smart grills on the market.
Traeger Timberline 1300
The Timberline 1300 may look like a modified Civil War cannon, but the technology is anything but crude. How does it work? Based on your desired cooking temperature, the smart grill's natural hardwood pellets are automatically fed into the fire pot for a steady burn, which you can crank up or dial down using the Traeger smartphone app. In doing so, you'll be controlling not only the heat source but also a system called "TRU Convection," which is basically an induction fan that generates a delicious vortex of heat and smoke. Powered by a standard household outlet, this eco-friendly smart grill requires very few watts, so you'll be giving Mother Nature a break as you torch her bounty (this baby can hold up to 60 burgers, 12 chickens, 82 hot dogs or 14 rib racks simultaneously).
Lynx 30″ Freestanding Smart Grill
Lynx is known for professional-grade BBQ equipment, and everything about the 30" Freestanding Smart Grill model screams "Meat Lamborghini," from the backlit blue LED control knobs to a cleverly hidden hood assist system that makes it easier to open the lid. These smart grills are durable too, made with high-grade stainless steel right down to the heavy-duty grill grates (no more blackened rust or chipped coating). Inside, two powerful Trident ProSear2 infrared burners work to distribute heat across all 840 square inches of surface area – or you can just skewer your dish on the dual-position, 3-speed rotisserie. The Lynx Smart Grill app has a grill interface to monitor and control temperature, a "MyChef" feature for customizing your recipes, and a community aspect where you can share tips and casually gloat about your glistening ribs.
Char-Broil SmartChef
Char-Broil is an American institution with dozens of grills and a million mass-market accessories, but they knew they needed to keep up with Wi-Fi-enabled technology to stay relevant. Enter the SmartChef, a well-appointed smart grill with all the intellect at nearly half the price. Once you get it set up and wirelessly synced with the Char-Broil Gas Grill mobile app, you'll be able to monitor the temperature, cooking time, and gas levels right from your smartphone, and it will send you real-time updates as your meal cooks. Thanks to a TRU-Infrared Cooking System, CharBroil claims you won't have to worry about flare-ups or dead zones, either. Perfect grill marks will become your new calling card.
Memphis Advantage Plus
First indication that the Memphis Advantage Plus is legit: It has "Memphis" in the name. This stainless-steel monster takes wood pellets (preferably 100 percent natural) instead of propane or charcoal, and it pairs with a slick mobile app that's packed with real-time controls and easy-to-automate recipes. On the inside of the smart grill, hidden four-inch convection fans relentlessly circulate heat and smoke, so you don't need any rotisserie-style rotation to ensure an even burn. It has a huge range: You can set the temperature as low as 180 degrees for something like slow-cooked ribs, or crank it all the way up to 600 to sear a handsome steak. Either way, get ready to enjoy the juiciest meat you've ever (sort of) prepared by yourself.
REC TEC Wood Pellet Grill
This smart grill is guaranteed to make the neighbors jealous, especially when the smell of low maintenance, perfectly cooked BBQ starts wafting over your fence. Similar to the Timberline 1300 and the Advantage Plus, it uses real wood pellets instead of propane or charcoal, which, as 'cue purists know, results in better tasting meat (it may also reduce the formation of carcinogenic chemicals). The hopper on this thing is massive: you can dump 40 pounds of pellets in there and just burn through them for weeks. If the grill is operating at less than 250 degrees, you can also activate the "Xtreme Smoke" feature which gets it extra billowy for maximum flavor. The lid doubles and a warming surface, and there are a bunch of cool add-ons available such as a searing kit ($80), a cold smoker box ($200), and front folding shelf ($100).
This article was originally published on