The TreePod Camper Lets Your Kids Bring Their Tree Fort Camping
And it dangles from only one branch.
by Dave Baldwin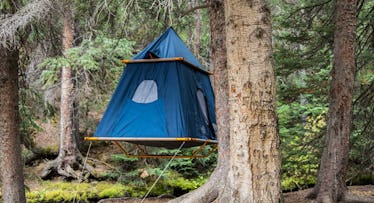 For as much as your kids love spending the night in their backyard tree fort, it's really too bad you can't pack the damn thing up and take it camping with you. They get a cool place from which to defend your campsite, you and your wife get more room in the tent. If you owned the new TreePod Camper, this whole amazing scenario could be a reality.
Building off the success of their smaller, legitimately-designed-for-kids hanging treehouses, the folks at TreePod just unveiled a sturdier camping version at this month's Outdoor Retailer Winter show. It's still a suspended tent made of UV and water-resistant nylon, but now it boasts a lightweight aluminum frame and rigid floor with removable center divider — to make sure neither of you hog the whole thing. It's made for 2 adults (up to 500 pounds) and measures 4.5-feet by 7-feet. And amazingly, it still only needs one strong branch or anchor point from which to hang. You just tie off the corners with guy lines to keep the thing from swaying in the breeze.
At 22 pounds, it's more of a car-camping than a backpacking tent, but combine it with the rooftop iKamper, and you can rest assured: nobody in your family's waking up with a rock in their back. Even better, it hits the market just in time for your big summer camping trip. So, no need to take Junior's tree fort apart after all.
This article was originally published on