Transforming an Old Pedal Truck into a Shiny Red Fire Truck
With a bit of elbow grease and a few cans of Krylon® spray paint, one dad helps fulfill his kid's dream of becoming a real-life firefighter.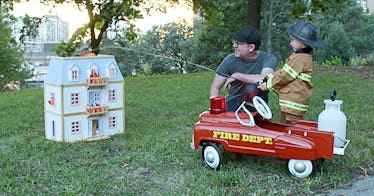 This story was produced in partnership with Krylon, the spray paint brand that can easily restore, refresh, recolor, and revive any project.
How do you encourage a kid to follow their dreams when they include being a first responder? If you're Peter Kreider, whose 7-year-old wants (very badly) to be a fireman, you piece together the perfect tool. In this case, that means building an actual, kid-sized working fire truck.
"I run a small prototype lab for a design firm," says Kreider, "and I've worked making props for film and advertising for 20 years. My son just grew up around it, so from the time he could stack blocks, we were making stuff together."
The fire truck Kreider created with a few cans of Krylon® spray paint, a siren light, and a bit of elbow grease is a dream toy for any wannabe fireman. Here's how Kreider pulled it together.
Step 1: Disassemble and Sand the Truck
The first thing Kreider did was to find the right vehicle. "We shopped around a little bit to find a pedal truck that we felt was cool," Kreider says. "And then based on the design that I liked, I did some sketches and thought about things that we could add."
After some careful planning, Kreider took the vintage truck almost completely apart in order to spray paint it evenly. "We sanded the whole thing down to remove rust and even out the surface, cleaned it up and repaired a few minor dents," Kreider says.
Step 2: Gather Your Spray Paint
Kreider carefully masked the areas off that he didn't want painted, then got to work spray painting. For the undercarriage, he used Krylon® Fusion All-In-One™ Gloss Black and ensured he got the perfect fire engine color by spray painting the body with Krylon® Fusion All-In-One™ Gloss Red Pepper.
As the red and black colors were drying, he removed the grill, windshield, and wheels and did some detailing: Krylon® Fusion All-In-One™ Metallic Silver on the grill and windshield, and Krylon® Fusion All-In-One™ Gloss White on the wheels.
In order to make the pedal truck actually, well, look like a fire truck, it needed to announce it. So Kreider grabbed a stencil, cut out the words "FIRE DEPT.", and sprayed them with Krylon® Fusion All-In-One™ Gloss Sunbeam.
Step 3: Install the Water Tank
What's a fire truck without a water tank? Kreider wanted to add a small water tank with a hose on the back so his son could actually put out fires.
"We created a little alcove that was the diameter of the tank, so that it could just rest in there," Kreider says. "Then once the tank was half full, about half-a-gallon, it was held in place by its weight and a metal chain that ran across the back."
Step 4: Take It for a Test Run
Now, with a working fire truck that he can drive around and spray water from, Kreider's son gets to live out his fireman fantasies. But he also got to see that hard work really does pay off. "It was really powerful to see the transformation of something go from old, broken thing to a really unique, one-of-a-kind, great-looking thing that's fun to play with."
This article was originally published on