The Traft Is a Lightweight Raft That Morphs Into a Tent
It weighs 12 pounds, can handle Class 4 rapids, and even folds down to fit in a backpack.
by Dave Baldwin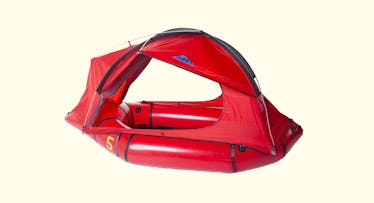 The key to any successful outdoor adventure, either with kids or without, is…OH MAN LOOK AT THIS RAD TENT-RAFT! Do you see this thing? It's a tent and a raft together but, deflated, fits inside a backpack! Can't you imagine rocking the lazy river on this bad boy?
Sorry, got a bit carried away there. But, man is this thing cool. Unveiled at this summer's Outdoor Retailer Show, Traft is billed as an inflatable portable watercraft for adults and kids that can handle pretty much any body of water, be it an ocean, Class 1-4 rapids, or a lazy float on the lake. It's made of a durable thermoplastic polyurethane (which is suppose to be more eco-friendly than PVC), weighs less than eight pounds, and folds down to fit in a backpack. It also boasts an orthopedic designed comfort seat with supportive backrest and lock-on inflation system so nobody passes out trying to blow it up when the trail runs into the water.
What makes the Traft so clever, however, is the attachable 3-3.5-pound tent that can be used as sun-shade on the water or ⏤ if you flip the raft over before mounting ⏤ for sleeping on land. (Unfortunately, they don't recommend setting yourself adrift and then nodding off.)
There are two sizes available: a 7-feet-by-3-feet vessel that weighs 12.5-pounds all in (raft, seat, tent); and the Mach 5, which measures 8.5-feet by 3-feet, weighs 13.1-pounds, and includes about 4.5-feet of interior floor space. The smaller model can handle paddlers up to 5'10" while the larger is designed for folks up to 6'4″ tall. The company is also planning a 10.5-foot super duty packraft for bigger groups/families and tent system kits to retrofit existing rafts ⏤ so if you already own a boat and just want to pop on a tent, you'll be in luck.
Just not until next year, when the Traft is slated to hit the market. The company still has to launch a Kickstarter campaign and is planning a Summer 2018 release. As for price, they're currently estimating $900 for the raft and around $300 for the tent but naturally, at nine months away, those are subject to change. Excited potential customers can sign up on Traft's website for email updates and to find out when pre-ordering begins, while totally impatient potential customers can go buy a similar but much heavier 8-foot by 8-foot (75-pound) floating tent, called the Shoaltent, online right now for $1,500.
This article was originally published on