Call Toys "R" Us Out on a Lower Price, They'll Donate Money to Charity
Not only will you pay less, but they'll also give $1 to Toys For Tots.
by Dave Baldwin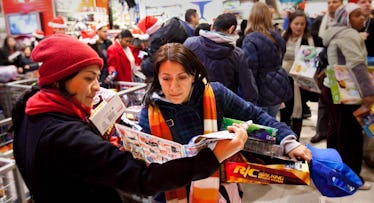 GETTY
Getting a store to match a competitor's cheaper price on a product is one of those feel-good moments in the chaos of holiday shopping. Not only do you save cash right then and there, but you don't even have to drive to the other store. It's a Christmas miracle! Now, Toys "R" Us wants to make that miracle even more joyous.
According to the company's new Price Match Promise, if a customer finds a toy advertised at a lower price at another store through 12/24, Toys "R" Us will both honor the price and donate $1 to the Marine Toys For Tots Foundation. So now it's a win-win-win.
Assuming enough customers can call them out on expensive prices, the company intends to give away up to $1 million. There are, of course, a few rules, stipulations, and details worth noting. First, the deal only applies to in-store purchases, nothing online; Second, with the exception of color, the item purchased has to identical ⏤ same size, style, and brand; And third, "the original, complete competitor ad, with valid dates, must be presented at time of purchase."
Of course, there's additional fine print which you should read on their website before strolling into the store with a smug look on your face, but that's the big stuff. They also note that Jet.com and Amazon 3rd-party marketplace sellers do not count.
The match is actually good for up to 14 days after the purchase, so you can do additional research in all your spare holiday time, and applies to both Toys "R" Us and Babies "R" Us.
This article was originally published on