Toys 'R' Us Goes Belly Up In UK, May Close 200 More U.S. Stores Soon
Now's probably the time to use all your Toys 'R' Us gift cards.
by Dave Baldwin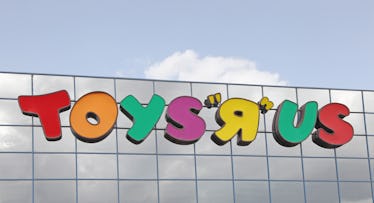 It's been a tough year for Toys 'R' Us. In September, the company filed Chapter 11 bankruptcy in an effort to restructure its $5 billion debt. Then in January, after a lackluster holiday season, it announced the closure of 182 stores. The going-out-of-business sales at those stores had barely begun when news broke last week that another 200 U.S. stores could be shuttered in the upcoming months, essentially cutting the company's footprint in half by the summer.
Yesterday, the news got even worse. The British division of the company, which opened in 1985, announced it had collapsed into "administration" ⏤ meaning it's about to become insolvent ⏤ and would start "an orderly wind-down" of its business, essentially liquidating the country's 105 stores and laying off 3,200 staff. While some stores are expected to close within the week, most will stay open indefinitely and going-out-of-business sales are slashing 25 percent off everything.
How much longer the company can hold on is anybody's guess, and some analysts are already waving goodbye. "We can already write the tombstone for Toys 'R' Us, which is trying to stay alive with an outdated model," Kai Clarke, CMO of American Retail Consultants told Forbes. "Too many large stores, an inefficient distribution system, poor inventory management, and a weak online presence. Next!"
Others experts, however, have suggested that if the company can shrink down to 200 stores, it could remain viable. That's a big if. Considering the toy chain boasted 1,600 stores only a year ago, it's also still a huge fall. That said, despite all the volatility, one thing is for sure: It's probably a good time to cash in all your Toys 'R' Us gift cards.
This article was originally published on