What to Know About Using Your Toys 'R' Us and Babies 'R' Us Gift Cards
You're going to want to spend that cash soon.
by Dave Baldwin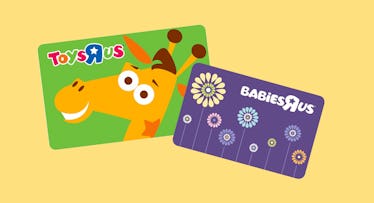 Toys 'R' Us and Babies 'R' Us are closing their doors ⏤ RIP Geoffrey the Giraffe. With this came speculation as to how long the stores' gift cards would be honored. The company recently announced their plan for rewards points and gift cards.
The retailer says it will honor all Babies 'R' Us and Toys 'R' Us gift cards for the next 30 days as it liquidates 800 US stores. After that, it says the cards will be worthless. Rewards points can be used until next Wednesday, 2/21. Any completion coupons for registries will still be accepted.
There's still been no timeline given as to when the company's brick-and-mortar stores will shutter or sales will begin ⏤ 182 started liquidating last month ⏤ but as a company spokesperson told Fatherly, the online store and all Babies 'R' Us registries will remain active for the next few weeks. The company remains hopeful it can find a buyer for at least some of its stores.
In the meantime, though, customers with gift cards are advised to go on a big game-show shopping spree — and quickly. While 30 days may seem like a lot of time, there simply may not be much left to buy in the end as everyone makes a mad dash to spend the soon-to-be-expired cards. Thursday afternoon, the Babies 'R' Us website was fully stocked with clothes, cribs, and other popular baby products. As of 10pm Thursday night, most of the online clothing department was already sold out. (Note: I was online at that time trying to use up our cards and literally watched toys sell out before my eyes. I missed out on a sweet kids trampoline.)
As is the case in most bankruptcies, creditors come before customers (particularly, gift-card holders) when it comes to order of reimbursement. And while companies often try to honor the cards, they're not legally obligated to do so. On Wednesday, Senator Chuck Schumer (D-NY) wrote a letter to the Federal Trade Commission asking the agency to ensure Toys 'R' Us exchanges all cards for cash, or at least provides customers enough time to spend them. Outstanding Toys 'R' Us and Babies 'R' Us gifts cards are reportedly worth an estimated $210 million.
"Your best bet is to spend gift cards right away. Otherwise, if there is value left after the company physically closes, you become an unsecured creditor," says Tom Olk, VP of Risk at Raise, a mobile payments company and gift card marketplace. "In the repayment waterfall, you will be placed behind any secured credit holders, such as debt holders or loan providers. As a result, you would receive only pennies on the dollar…if you even receive that much."
If you have some lingering gift cards, but are unsure of their remaining balance, go here and simply click on the check gift card balance portal. Happy shopping.
This article was originally published on