ToyFair 2020: 10 Takeaways About the Current State of Toys
A lot was happening at Toy Fair 2020. Here are some of the big takeaways.
by Fatherly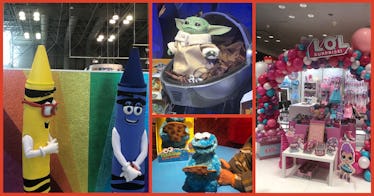 Photographs courtesy Matt Berical
The 117th annual New York Toy Fair took place this weekend at the Javits Center in Manhattan. An opportunity for toy manufacturers to preview their latest and greatest products for the year ahead, this year's show featured more than 1,000 vendors as well as a dizzying cocktail of costumed characters, glitter-coated signs, life-sized action figures, chirping electronics, and kidfluencers upon kidfluencers. There were stuffed animals. There were coding kits. There were augmented reality toys. There was a performance by a Trolls band. Shaq was there on behalf of Tonka Trucks but wandered over to the Care Bears booth because why not?
Despite the technicolor madness of Toy Fair, the show acts as a barometer for the toy industry — and showcases the larger trends within the wide world of play. Here, then, are 11 major takeaways from Toy Fair 2020.
What's Old Is New Again
Nostalgia was, once again, a driving force behind many big brand toy releases. Hasbro brought back the 80's shopping spree game Mall Madness that comes with a 3-D game board of a two-story shopping mall as well as Tiger Handheld Electronic games with such titles as The Little Mermaid, Transformers, X-Men, and Sonic the Hedgehog 3. A modernized Etch-a-Sketch made its debut, this time featuring a spherical board that allows players to actually draw circles. There were also comebacks from G.I Joe, retro figures from Star Wars, new Transformers figures to coincide with the recently-announced Transformers: War for Cyberton on Netflix, a new take on hopscotch as well as additional Polly Pocket figures and Tamagotchi retreads. While it's easy to scoff at the comeback trend and view it as companies capitalizing on the modern need for an IV-drip of nostalgia (and it is), we choose to view it in a more positive light: The more excited a parent is to introduce their child to a toy they loved as a kid, the more that parent will participate in play.
Animatronics Everywhere
While Hasbro's Baby Yoda, aka The Child, was the animatronic darling of the show, many toymakers debuted similar creations of their own. Hasbro released some more additions to their FurReal line, including FurReal Mama Josie the Kangaroo Pet, which has more than 70 sounds and interacts not only with your kid but also her own kids (she comes with three little joeys and responds to them in a very nurturing way). Skyrocket Toys debuted Moji, the Lovable Labradoodle, which features more than 150 sounds/motions and 10 tricks to learn including high-five and speak. There was even a robot "dog" named Squeakee that looks like a Jeff Koons-esque balloon animal and features more than 50 sounds and interactions. Even toddlers can get in on the action, with such releases as the V-Tech Explore & Crawl Elephant that, well, crawls, flaps its ears, lights up, and has more than 45 songs and sounds. The elephant encourages kids to walk and crawl after it and also teaches kids about colors and shapes. Toys are getting more intelligent
Augmented Reality's Strange Half-Life
Years after the debut of the first augmented reality toys, AR remains just short of ubiquitous at Toy Fair. This has a certain trying-to-make-fetch-happen quality. As many parents have found out, integrated toys tend to become digital or physical toys in relatively short order. Though tech-forward toys and, let's be real, video games, aren't going anywhere, the uncomfortable marriage of digital UX design with material toy design seems destined to end badly. The sooner the better.
Let's Hear It For the World
To no surprise, sustainability was a big push for many toy companies. Mattel, which recently announced a promise to achieve full-environmental sustainability by 2030, showed off a new version of the classic Fisher-Price Rock-A-Stack toy made entirely of plant-based plastics and packaged in 100-percent recycled/sustainably sourced material. L.O.L Surprise!, which recently announced a partnership with waste-management company TerraCycle, dropped the news that, by 2021, all of their packaging will be degradable. The always eco-friendly Green Toys released three new toys — a Fire Plan, Shape Sorter Truck, and Cargo Plane — each of which are not only made of 100-percent recycled materials as well as BPA-, phthalates-, and PVC-free. Here's the truth: Some companies made big strides; others announced initiatives that only served to make it seem like they were moving towards sustainability. Still, a focus on environmental initiatives was seen at nearly all booths.
Blind Bags, Blind Bags Everywhere
Call it the LOL Surprise! effect: Despite the show-wide sustainability focus, many, many toymakers are releasing or have released blind bag-style toys — those that come in plastic containers and have plastic bags full of plastic accessories and paper stuffing and plastic plastic plastic. While, yes, kids certainly have a fondness for receiving a surprise toy inside of which might be any number of cool items, these toys are, for the most part, an exercise in waste.
The Gendering of Everything and Nothing
The evolution of gendered play saw two competing trajectories. While many brands continued with or innovated gender-neutral approaches to toys (Plan Toys' Fire House is essentially a dollhouse that is nonbinary; Brio's Builder Motor Set encourages building without gender signals; the Playmobil large hospital is the non-gendered pretend play toy of our dreams), the march to genderize play by a slew of other brands continued and got more extreme. Several ride-on tractors and play trucks, scary costumes, and STEAM toys were clearly directed at boys, but it was the girlie stuff that got even girlier. Ballet costumes were so froufy and lacy, they looked like bizarre lingerie, play heads had interchangeable wigs and makeup went beyond the most over-the-top pageant look, while purses for makeup were marketed to younger and younger girls — all while 6-year-old girls walked a nearby catwalk with a little more model technique than was comfortable. The better brands are moving very much in the right direction, understanding that kids need to explore their interests, be they nurturing or problem-solving; the other brands, not so much.
A Move to Inclusivity
Inclusivity in toys has improved on several fronts over the past few years. This year was no different. Multiple vendors showed off toys of varying ethnic diversity, physical capability, and appearance. Mattel, for instance, continued to diversify Barbie by including a number of new, diverse dolls in its Fashionista line. They debuted a doll with the skin-disease vitiligo. There was a Ken with long hair, an African-American Barbie with natural hair, and another Barbie with no hair at all. The play people of Playmobil, Magformers, and Manhattan Toys, for instance, showed off dolls and characters with a diversity of skin tones. This is good news for kids who haven't seen themselves reflected in play.
The IP Backlash
Marvel, DC Comics, Star Wars, and Minions are so overwhelmingly present at Toy Fair that it's easy to miss the fact that many brands are going the other way. Maybe not by choice — licensing is crazy expensive — smaller brands are stripping their toys down to core functionality, some even going so far as to eliminate color. This is happening because there has been a hollowing out of middle-class IP. If it's not part of the Rebel Alliance or the Avengers Initiative, the branding likely isn't worth much. The good news for parents and kids is that this means there are more toys standing on their own, sold on functionality rather than ancillary content or characters.
Animal Deep Cuts
The big-name animals are always going to be there. The toy market is bullish on bears, ponies, dinosaurs, and cats. But there's the lesser known members of Kingdom Animalia are starting to make the scene. There were echidna and axolotl toys. There were alligators, satiated hippos, and a praying mantis from Breyer. The metazoic revolution hasn't arrived just yet, but it's coming.
The Return of the Best Toy
Every year, the actual best toy at Toy Fair is the tired looking lab working security out front. This year, he seemed particularly put off by a bizarre runway show featuring the strained smiles of heavily coached six-year-old girls. He looked at these young models with some deep understanding in his eyes. They don't need bedazzled clothes, he seemed to think, they need to take me for a walk. Not wrong.
This article was originally published on