This Miniature Electric Screwdriver Is Designed For Tiny Toy Screws
Changing the batteries in toys has never been so easy.
by Dave Baldwin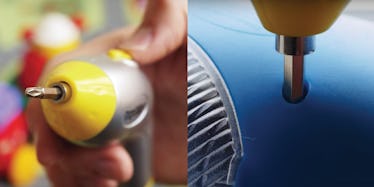 Unless you're an old-timey whose kids play exclusively with wooden toys, then you know the frustration of trying to find a screwdriver that fits the screws on most battery operated toys. Nobody wants their kid snacking on a mouthful of AAAs, but damn, do those screws need to be so small? Stop rummaging through the junk drawer looking for a screwdriver that's going to be too big anyway, and check out the ToyDriver.
ToyDriver is a mini battery-powered screwdriver designed for toys, or anything else with frustratingly wee screws. Since you already understand the concept of both electric drills and screwdrivers, all you need to know is that it was brought to market ("invented" would be a stretch) by a mom of 3, includes Phillips and flat magnetic screw bits that store in the base, and works in both forward and reverse. So, pretty much like any drill you've ever used, just smaller and less powerful. The only apparent drawback appears to be that there's no lock, so it can't be used as a manual screwdriver without slipping gears.
Ironically, it requires 2 AAA batteries, but they're included. Best part: when they run out, thankfully, you don't need to use another screwdriver to change them.
This article was originally published on